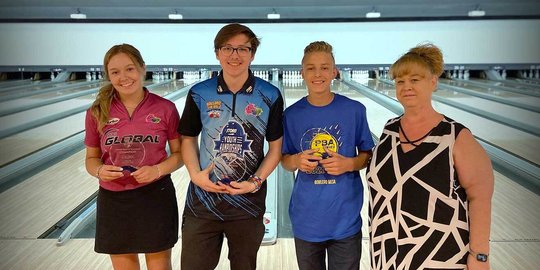 PBA Jr. Competitors Shine in Mesa, Arizona
Mesa, Ariz. – The PBA's inaugural Junior Regional season is upon us and opened the Western Region's first event in Mesa, Ariz. with a field of 54 youth bowlers from eight surrounding states. The bowlers competed on the PBA's Earl Anthony oil pattern in three divisions - U18 Boys, U18 Girls & U15 Mixed. Each division featured six games of qualifying and eight games of round robin match player, followed by a top-four stepladder final with three winners.
In the U18 Boys division's opening stepladder match, the fourth seed, Jacob Gaddam of Modesto, Calif. took on third seed Riley Woodard from Orem, Utah. Goddam, who is legally blind, stepped up to the plate all weekend and offered the spectators quite a show. In the end, Woodard threw an early five-bagger and proved to be too strong for Gaddam winning 246-210.
In the semi-final match, Woodard repeated his early string of strikes defeating the second seed, Cesar Padilla, 257-210. Advancing to the title match, Woodard defeated Elias O'Hollaren of San Diego, Calif., who never got comfortable with a final score of 226-177. Woodard became the first-ever U18 Boys PBA Jr. Regional Champion on the West coast, winning a $1,000 SMART Scholarship.
In the U18 Girls division stepladder opening match, two-handed Stephanie Hong of Fullerton, Calif. took on Tayler Clark of Tucson, Ariz. Hong prevailed in a low scoring match of 175-139 to advance to the semi-finals. Clark competed against local stand out Madison Holman of Chandler, Ariz., who was comfortable on the lanes. Holman delivered an early triple and never looked back winning 244-214.
In the championship match, Holman took on Katelyn Abigania of San Diego, Calif., a highly accomplished young female bowler and two-time USBC Jr. Gold champion. The match stayed close from start to finish, with Abigania needing a strike on the first ball in the tenth frame to win. Abigania had an unfortunate Greek church split and left the door open for Holman to spare and take home the win. Holman stepped up in the tenth and filled 19 pins to win 187-184 and a $1,000 SMART Scholarship.
The U15 Mixed Division was full of excitement in every stepladder final match. The opening match saw last week's U15 Mixed PBA Jr. Champion in Belton, Mo., Jos Weems of Chicago taking on Daryus Alo of Las Vegas. Weems started out strong and looked like it was his for the taking, but Alo found a magical six bagger to end the game and defeat Weems 189-170.
The semi-final match brought in Brody Chatterton of Nampa, Ind. to try and take down Alo. Both players went back and forth giving each other their best shots, but in the end Chatterton was too much for Alo, defeating him 213-206.
The championship match saw Chatterton take on local Jason Gootzeit on Phoenix, Ariz. Gootzeit, who dominated the field all day, looked like he was going to be tough to beat, but fell to Chatternon in the tenth frame. Chatternon threw a huge double in the tenth forcing Gootzeit to match him, but split in his second shot. Chatterton won the U15 Mixed Division 232-224.
PBA Jr. Mesa Regional Stepladder Results
U18 Boys
Quarter Final: Woodard def. Gaddam 247-210
Semi Final: Woodard def. Padilla 257-210
Final Match: Woodard def. O'Hollaren 226-177
U18 Girls
Quarter Final: Hong def. Clark 175-139
Semi Final: Holman def. Hong 244-214
Final Match: Holman def. Abigania 187-184
U15 Mixed
Quarter Final: Alo def. Weems 189-170
Semi Final: Chatterton def. Alo 213-206
Final Match: Chatterton def. Gootzeit 232-224
King of the Lanes: Empress Edition presented by Pabst Blue Ribbon

King of the Lanes: Empress Edition presented by Pabst Blue Ribbon

King of the Lanes presented by Pabst Blue Ribbon