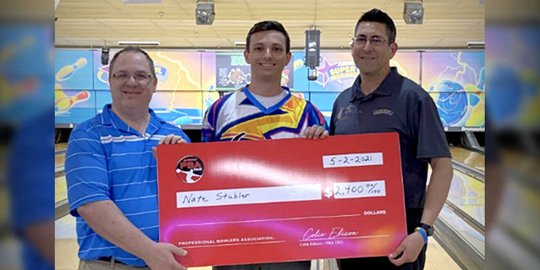 Nate Stubler captures PBA Illinois Valley Midwest Open Regional Title
Peru, Ill – Nate Stubler of LaSalle, IL defeated Nick Kruml of Downers Grove, Ill 226-190, to win the PBA Illinois Valley Midwest Open at Illinois Valley Super Bowl on Sunday, May 2.
Non-member Stubler, who qualified as the second seed advanced to the title match easily defeating third seed Dakota Solonka of Indianapolis, Ind. 246-182. Stubler then had a tight match with top seed, Kruml through nine frames, but finished with a flurry of strikes to secure the win when Kruml had a late frame split.
Kruml earned $1,360 for second place and Solonka collected $1,000 for third place.
Rounding out the top four was Ryan Burks of Kansas City, Mo. who fell to Solanka in the opening stepladder match, 211-168 and earned $950.
The next PBA Midwest Region event will be the Strike N Spare II Lanes in Lockport, Ill for a one-day event on Saturday, May 29.
PBA ILLINOIS VALLEY MIDWEST OPEN
Illinois Valley Super Bowl, Peru, IL, Sunday, May 2, 2021
Final Standings:
(N) Nate Stubler, LaSalle, Ill, $2,400
Nick Kruml, Downers Grove, Ill, $1,360
(N) Dakota Solonka, Indianapolis, Ind $1,000
Ryan Burks, Kansas City, Mo, $950
Other Finalists:
Sean Rash, Montgomery, Ill, $900
Mitch Hupe, Winnipeg, Canada, $850
Chris Hill, Franklin, Wis, $800
(N) Matthew Hibbard, Mukwonago, Wis, $750
Jonathan Schalow, Evansville, Wis, $700
(N) Rory Clark, Muskego, Wis, $650 (Smart Fund Earnings)
(N) Alec Reseland, Urbandale, Iowa, $625
Nick DeCesaro, Kenosha, Wis, $600
Other Cashers:
Nathan Michalowski, Mount Pleasant, WI, $575 + $30 Alternate
Jeremy Hunt, Sikeston, MO, $550
Ryan Lakota, Shorewood, IL, $525
Matt Russo, Fairview Heights, IL, $500
Matthew Hibbard rolled the only 300 game
N-denotes non-member
King of the Lanes: Empress Edition presented by Pabst Blue Ribbon

King of the Lanes: Empress Edition presented by Pabst Blue Ribbon

King of the Lanes presented by Pabst Blue Ribbon