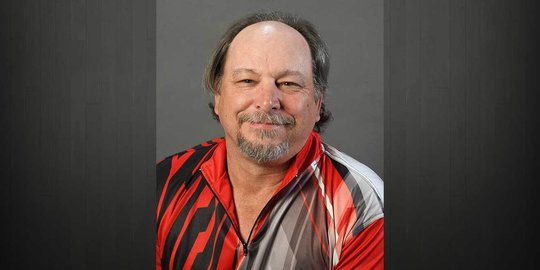 Lefty John Marsala leads at PBA50 Bud Moore Classic
May 10, 2021
Jill Winters
Centreville, Va.- John Marsala has relied on just one ball with a lot of surface on it to earn him the top spot after 14-games of qualifying at the 2021 PBA50 Bud Moore Classic in Centreville, Virginia. The lefty sanded his Roto Grip Rubicon UC2 and rolled games of 216, 228, 258, 226, 247, 259 and 214 for 1,648, paired with his 1,708 during Monday's seven-games of qualifying.
Marsala came into this season with a goal of being more competitive and so far, he is off to a strong start. He finished in fourth at the PBA50 Lightning Strikes Open in Fort Myers, he cashed the following week and now he wants to win his second PBA50 Tour title.
"I want to make the TV show and bowl for a title," Marsala said. "I've worked really hard, and I am getting to live my dream."
The St. Louis, Missouri native used to bowl on the PBA Tour back in the 1980s but stepped away due to a wrist injury. He let it heal enough and worked hard to give himself another chance to compete on tour. Great execution and staying relaxed were key to his qualifying rounds.
"I just need to stay focused, stay in the moment and do the best that I can," he said about the potential to make it to Tuesday's stepladder finals.
Boresch Jr., who started his day on Monday with a perfect 300 game, sits just 43-pins behind Marsala in second place with 3,313. Both men were on the A squad. The B squad leader was Ben Hoefs who shot 227, 226, 231, 257, 201, 268 and 242 for two-day total of 3,269.
Hoefs, who is bowling in his first PBA50 tournament this year, credits fellow PBA50 competitor Michael Haugen Jr. with helping him succeed at Bowlero Centreville.
"I crossed with Haugen today and he told me I needed more shape and more ball," Hoefs said. "I switched to a stronger asymmetrical ball, the Hammer Black Widow 2.0. When you have the right equipment in your hand those numbers add up."
The top 32 players advance to match play with all pins carrying over. John Neral was the cut line with 3,067.
Match play will begin at 8 a.m. ET Tuesday with eight-games streamed on FloBowling. The top five will move on to the stepladder finals which will be held inside the home of tournament sponsor, Bill Moore. He has two synthetic lanes in his basement which is known as Bud Moore Lanes, in honor of his dad. The stepladder finals will begin at 7 p.m. ET on FloBowling.
King of the Lanes: Empress Edition presented by Pabst Blue Ribbon

King of the Lanes: Empress Edition presented by Pabst Blue Ribbon

King of the Lanes presented by Pabst Blue Ribbon