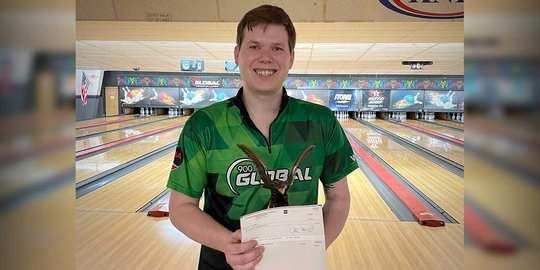 Dylan Macon Tops PBA Waxahachie Southwest Challenge Field
Waxahachie, Texas – Dylan Macon, a former PBA member from Lubbock, Texas, built a 110 pin lead going into the final game position round, then held off Tim Crites' late charge, and won the third annual PBA Waxahachie Southwest Challenge Sunday at Hilltop Lanes.
Macon finished Saturday's eight game qualifying round in 19th place, then rebounded averaging over 254 in the five game Casher's Round to catapult to the lead. In the eight game modified round robin match play finals, Macon continued his torrid pace, averaging 235, though only winning five of his eight matches. Crites went 7-1 in the match play to narrow the lead, but Macon was not to be denied his first PBA win and the $2,450 winner's check. As a non-member, Macon won't receive credit for a PBA title
The PBA Southwest Region's next tournament will be the PBA Fort Sill Southwest Open at Twin Oaks Lanes at Fort Sill, Okla., July 16-18.
PBA WAXAHACHIE SOUTHWEST CHALLENGE
Hilltop Bowl, Waxahachie, Texas, Sunday
Final Standings (after 21 games, including match play bonus pins):
(N) Dylan Macon Lubbock, Texas 5-3 4824 150 4974 $2,450
(N) Tim Crites Dallas, Texas 7-1 4717 210 4927 $1,700
Brent Boho Colgate, Wis. 6-2 4593 180 4773 $1,400
(N) James McIver Cape Coral, Florida 5-3 4602 150 4752 $1,200
(N) Andres Villarreyna Port Arthur, Texas 5-3 4550 150 4700 $1,050
Austin Boulds Creal Springs, Ill. 3-5 4574 90 4664 $950
Arturo Quintero Mexico 3-5 4523 90 4613 $850
Anthony Desko Parkville, MO 4-4 4477 120 4597 $800
Bryan Pogor Round Rock, Texas 5-3 4393 150 4543 $750
(N) Peter Zmozynski Depew, N.Y. 4-4 4416 120 4536 $700
James Cantere Oklahoma City, OK 2-6 4406 60 4466 $675
Travis Tribolet San Angelo, Texas 2-6 4394 60 4454 $650
Gabriel Yanes Corpus Christi, Texas 5-3 4271 150 4421 $625
(N) Ryan Nguyen Port Arthur, TX 1-7 4379 30 4409 $600
Jon DeLaney McKinney, Texas 4-4 4230 120 4350 $575
(N) Zakary Edgerton Allen, Texas 3-5 4202 90 4292 $550
N-denotes non PBA member
King of the Lanes: Empress Edition presented by Pabst Blue Ribbon

King of the Lanes: Empress Edition presented by Pabst Blue Ribbon

King of the Lanes presented by Pabst Blue Ribbon