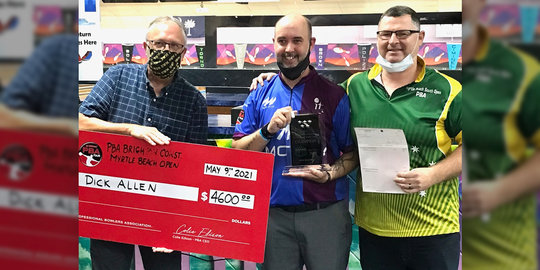 Champion Dick Allen Wins PBA Brighton Construction Myrtle Beach Open
MYRTLE BEACH, S.C. – Dick Allen of Lexington, S.C., defeated Mike Coffey of Melbourne, Fla., 212-190, to win the PBA Brighton Construction Myrtle Beach Open for his 27th PBA Regional title on Sunday at Myrtle Beach Bowl.
Allen qualified in the number one position for the four-man stepladder finals with a 15-game total of 3,686 pins, 111 pins ahead of n-Josh Johnson of Callahan, Fla., with 3,575. In third was Kristijonas Sergejevas of Lithuania 3,511 followed by Mike Coffey in fourth with 3,482.
In the opening match, Coffey defeated Sergejevas 183-171, then disposed of Johnson 253-229 to advance to the Championship title match.
In the title match, Allen started with a double-open-double, while Coffey had spare-double-open. The match was close and came down to the tenth frame where Coffey split and opened. Allen doubled to secure the win and the $4,600 first-place prize.
Coffey pocketed $2400 for second, Johnson $1600, and Sergejevas earned $1400 for fourth.
The PBA South Region's next event will be the PBA Sandhills Aberdeen Open on June 4-6th at Sand Hills Bowling Center in Aberdeen, N.C.
PBA BRIGHTON CONSTRUCTION MYRTLE BEACH OPEN
Myrtle Beach Bowl, Myrtle Beach, S.C., Sunday
Final Standings:
Dick Allen, Lexington, S.C., $4,600.
Mike Coffey, Melbourne, Fla., $2,400.
n-Josh Johnson, Callahan, Fla., $1,600.
Kristijonas Sergejevas, Lithuania, $1,400.
Stepladder Results:
Match One – Coffey def. Sergejevas, 183-171.
Semifinal – Coffey def. Johnson, 253-229.
Championship – Allen def. Coffey, 212-190.
Final Qualifying Standings (after 15 games, top 4 advanced to stepladder finals):
Dick Allen, 3,686.
n- Mike Johnson, 3,575.
Kristijonas Sergejevas, 3,511.
Josh Coffey, 3,482.
Chris Collins, Myrtle Beach, S.C., 3,442, $1,200.
Carlos Granados, Orlando, Fla., 3,424, $1,100.
Jason Duran, Littleton, Co., 3,413, $1,050.
n-Nathaniel Potter, Morristown, Tenn., 3,309, $1,000.
Matt Taylor, Zebulon, N.C., 2,937, $950.
n-Ethan McDonald, Coats, N.C., 2,934, $900.
Nate Garcia, Riverview, Fla., 2,893, $875.
Roscoe Pretlow, Chesapeake, Va., 2,872, $850.
Matthew Staninger, Charlotte, N.C., 2,871, $825.
Bryan Hahlen, Greenwood, S.C., 2,862, $800.
Connor Pickford, Charlotte, N.C., 2,793, $775.
Colin Champion, Spring Hill, Fla., 2,773, $750.
300 Games: Hernan Ramirez, Kelly Lake, Carlos Granados, Mike Coffey.
n-denotes non-PBA member.
King of the Lanes: Empress Edition presented by Pabst Blue Ribbon

King of the Lanes: Empress Edition presented by Pabst Blue Ribbon

King of the Lanes presented by Pabst Blue Ribbon