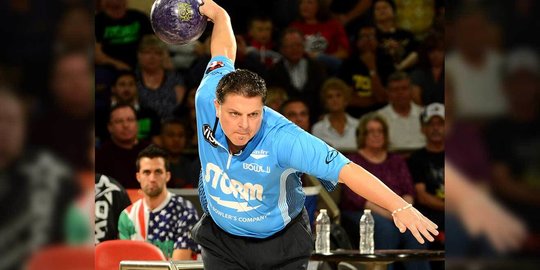 Brad Angelo leads day one of qualifying at the 2021 PBA50 Bud Moore Classic
May 10, 2021
Jill Winters
Centreville, Va. — Brad Angelo is leading the way after day one of qualifying at the 2021 PBA50 Bud Moore Classic. The 51-year-old admits his day started out with a pretty good look during practice at Bowlero Centreville and that carried forward as he averaged 244 for seven games with 1,709. He is one pin ahead of John Marsala at 1,708 to lead the field of 111 bowlers.
Angelo mainly relied on his Roto Grip Rubicon to start and finished up with his Roto Grip Rubicon UC2. He expects the scoring pace on Monday to be mid-high to high. He plans to drill a couple of balls he has in mind to help him on day two of qualifying.
"It would be an honor to bowl in the stepladder finals because Bill and my father used to bowl together in New York," Angelo said about the potential to advance to the finals which will take place at Bill Moore's house which known as Bud Moore Lanes, in honor of his father. "That would be a pretty great storyline."
In just his fifth tournament on the PBA50, Angelo is looking to follow the lead of fellow rookie Jason Couch, who picked up his first PBA50 Tour title at the second event of the year.
"We really have a strong class of rookies out here this year and this is a whole different atmosphere than the kids tour," Angelo said. "It's nice to be in an environment where the lanes don't get chewed up so fast."
Qualifying rounds will begin at 8 a.m. ET Monday for the B squad with seven more games and starting at 1 p.m. ET for the A squad on FloBowling. The top 32 will advance to match play on Tuesday. All pins will carry over.
King of the Lanes: Empress Edition presented by Pabst Blue Ribbon

King of the Lanes: Empress Edition presented by Pabst Blue Ribbon

King of the Lanes presented by Pabst Blue Ribbon