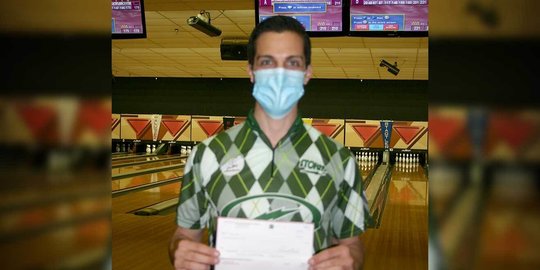 Anthony Pepe Wins AMF Country Club Lanes Open for Sixth Career PBA Regional Title
Baltimore, Md. – Anthony Pepe of Long Island City, N.Y., compiled a 7-1 match play record and a 16-game total of 3,665 pins to win the PBA AMF Country Club Lanes Open at AMF Country Club Lanes on Saturday.
Pepe qualified fourth and started the match play round slowly, averaging 193 for the first three games. From that point on, he averaged 240 to take the lead. Pepe ended his day with a 161-pin advantage over qualifying leader Jeremy Domingo of Sewell, N.J. who finished runner-up.
Pepe's win on Saturday is his sixth PBA Regional title and eighth overall, two coming before he was a PBA member. Pepe earned $2,500 while Domingo earned $1,275 in his best career finish.
Next on the PBA East Region schedule is the Bowlero Wallingford Open in Wallingford, Conn. on June 18-20.
PBA AMF COUNTRY CLUB LANES OPEN
AMF Country Club Lanes, Baltimore, Md., Saturday
Final Match Play Standings (after 16 games, including match play bonus pins)
Anthony Pepe, Long Island City, N.Y., 7-1, 3,665, $2,500.
Jeremy Domingo, Sewell, N.J., 4-4, 3,504, $1,275.
Carvel Waters, Ft. Washington, Md., 6-2, 3,466, $1,050.
Fran Luzzi, Port Jervis, N.Y., 5-3, 3,436, $950.
Keith Laing, Oakdale, Conn., 4-4, 3,406, $850.
Jason Stadtler, Lafayette, N.J, 4-4, 3,393, $775.
Paul Smith, Madison, Conn., 5-3, 3,386, $725.
John Furey, Howell, N.J., 4-4, 3,366, $675.
Troy Lint, Blandon, Pa., 3-5, 3,322, $650.
Jon Van Hees, Hope Valley, R.I., 3-5, 3,286, $625.
Ryan Shafer, Horseheads, N.Y., 1-7, 3,267, $610.
Zachary Smith, Saugerties, N.Y., 2-6, 3,206, $600
n-designated non-member entry
King of the Lanes: Empress Edition presented by Pabst Blue Ribbon

King of the Lanes: Empress Edition presented by Pabst Blue Ribbon

King of the Lanes presented by Pabst Blue Ribbon