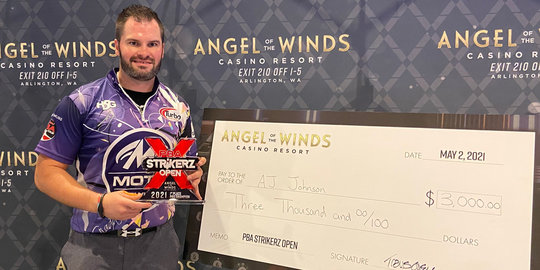 AJ Johnson Wins Inaugural Strikerz Open
May 2, 2021
Anonymous (not verified)
Arlington, Wash.– AJ Johnson of Oswego, Ill., brought his striking shoes to the Strikerz Open stepladder finals to claim his first PBA Northwest Regional Title. Qualifying as the third seed in the four-person finals, Johnson climbed the ladder with an impressive three game total of 814 to win the first-place $3,000 prize at Angel of the Winds Casino.
In the opening match of the stepladder, Johnson took on northwest native, Craig Tuholski of Gresham, Oregon in a nail bitter. Johnson stepped up in the tenth frame and threw all three strikes to force Tuholski to throw the first strike in the tenth to secure the victory. A light pocket hit wasn't enough to give him the strike he needed; falling to Johnson 225-221.
In the semi-final match, Johnson took on reigning PBA World Major Champion, Tom Daugherty of Tampa, Fla.. Johnson threw strike after strike firing a perfect 300 defeating Daugherty 300-201.
The title match saw top seed Darren Tang of Las Vegas match up against Johnson in a high scoring game. Both players had early spares, but Tang's spare in the second frame opposed to Johnson's in the first cost him.
Heading into the tenth frame, Tang and Johnson had potential 280 and 290 games, respectively. After a stubborn 10 pin didn't fall for Tang on his first ball, Johnson knew that any mark would secure the victory. Johnson stepped up in the tenth to throw 22 of the last 24 strikes to win his ninth overall PBA Regional title, and first in the Northwest Region with a final score of 288-259.
The PBA thanks Dustin Russel and his staff for hosting a premier inaugural event at Strikerz inside Angel of the Winds Casino just outside Seattle.
PBA Strikerz Open presented by Angel of the Winds Casino
Arlington, Washington
Final Match Play Standings (16 games, including match play bonus pins):
AJ Johnson, Oswego, Ill., 235.53 4,655 $3,000
Darren Tang, Las Vegas., 240.18 4,263 $1,500
Tom Daugherty, Riverview, FL., 231.12 4,126 $1,300
Craig Tuholski, Gresham, Ore., 226.94 4,008 $1,100
David Haynes, Las Vegas, 226.75 3,778 $950
Greg Thompson Jr, Tempe, Ariz., 224.81 3,747 $900
PJ Haggerty, Roseville, Ca., 227.50 3,730 $850
Francois Lavoie, Wichita, Ks., 225.31 3,725 $750
(N) Cameron Weier, Seattle, Wash., 222.81 3,655 $725
Marshall Kent, Las Vegas, 219.25 3,598 $700
Dean Richards, Tacoma, Wash., 214 3,574 $650
(N) Gregorio "Bud" Sicard, Milwaukie, Or. 217 3,564 $625
Evan Nash, Kennewick, Wash., 215.81 3,453 $625
(N) Austin Gratzer, Puyallup, Wash., 215.63 3,540 $600
Kyle King, Glendale, Ariz., 214.38 3,490 $575
Kyler Crevier, Portland, Wash., 210.63 3,430 $550
N-denotes non-PBA member
King of the Lanes: Empress Edition presented by Pabst Blue Ribbon

King of the Lanes: Empress Edition presented by Pabst Blue Ribbon

King of the Lanes presented by Pabst Blue Ribbon