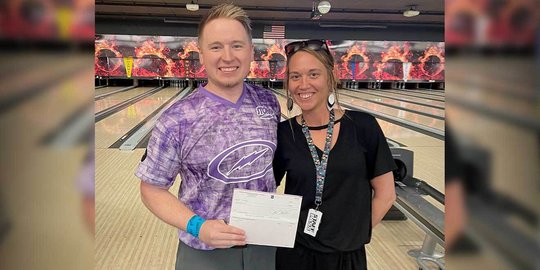 A.J. Chapman Wins PBA FireLake/Grand Casino Resort Southwest Open
Shawnee, Okla., - A.J. Chapman, from Manchester, Iowa, now living in Lewisville, Texas won his fourth PBA regional title Sunday in the tenth annual PBA FireLake/Grand Casino Resort Southwest Open.
Chapman, climbed into the lead in the eight game modified round robin finals by winning five of the first seven matches. Chapman defeated qualifying leader Ildemaro Ruiz in the seventh game 223-204 to set up the position round match against Sean Lavery-Spahr, of Pasadena, Texas. With 30 bonus pins for winning each match, and Chapman holding only a 15 pin lead, the winner of the last game would be the champion. Chapman answered the challenge defeating Lavery-Spahr 245-212 allowing him to claim the $5,000 first place prize.
The Big Brother/Big Sister Pro-am portion of the tournament was held on Friday evening. The annual fund raiser was again a big success, reportedly raising over $30,000 for the charity.
The PBA Southwest Region visits Hilltop Lanes in Waxahachie, Texas, May 21-23, for the PBA Waxahachie Southwest Challenge, a non-champions event.
PBA FIRELAKE GRAND CASINO RESORT SOUTHWEST OPEN
FireLake Bowling Center, Shawnee, Okla., Sunday
FINAL STANDINGS (21 Games)
| | | | | | |
| --- | --- | --- | --- | --- | --- |
| 1 | AJ Chapman | Manchester, Iowa | 6-2 | 4842 | $5,000.00 |
| 2 | Sean Lavery-Spahr | Pasadena, Texas | 6-2 | 4764 | $2,800.00 |
| 3 | Ildemaro Ruiz Jr. | Venezuela | 4-4 | 4741 | $1,900.00 |
| 4 | Beau Peterson | McPherson, Kan. | 5-3 | 4667 | $1,500.00 |
| 5 | Stuart Williams | Pflugerville, Texas | 5-3 | 4663 | $1,300.00 |
| 6 | Brad Miller | Lees Summit, Mo. | 1-7 | 4620 | $1,200.00 |
| 7 | Arturo Quintero | Mexico | 4-4 | 4595 | $1,100.00 |
| 8 | Kris Koeltzow | Wheat Ridge, Colo. | 3-5 | 4589 | $1,000.00 |
| 9 | (N) Sam Butler | Texarkana | 5-2-1 | 4587 | $900.00 |
| 10 | Deeronn Booker | Anaheim, Calif. | 4-4 | 4572 | $850.00 |
| 11 | Patrick Hanrahan | Wichita, Kan. | 3-5 | 4563 | $800.00 |
| 12 | David Krol | Nixa, Mo. | 5-3 | 4540 | $750.00 |
| 13 | Anthony Lavery-Spahr | Pasadena, Texas | 5-3 | 4496 | $725.00 |
| 14 | Shawn Maldonado | Houston | 4-4 | 4495 | $700.00 |
| 15 | (S) Mike Bailey | Carrollton, Texas | 2-6 | 4444 | $675.00 |
| 16 | (N) Connor Egan | East Northport, NY | 1-6-1 | 4340 | $650.00 |
King of the Lanes: Empress Edition presented by Pabst Blue Ribbon

King of the Lanes: Empress Edition presented by Pabst Blue Ribbon

King of the Lanes presented by Pabst Blue Ribbon