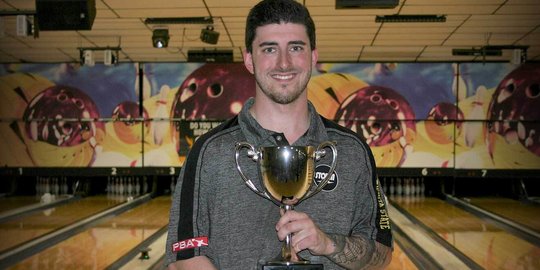 Aaron Major Wins PBA Colony Park Lanes Challenge for First Career PBA Regional Title
May 29, 2021
Regional Director
York, Pa. – Aaron Major of Brockton, Mass., compiled a perfect 8-0 match play record and a 14-game total of 3,212 pins to win the PBA Colony Park Lanes Challenge at Colony Park Lanes North on Saturday.
Major, who joined the PBA in early May, was competing in his first PBA event. The 23-year old two handed lefty qualified 13th in the field of 84 and steadily advanced up the standings, averaging 218 for the eight games of match play. Major entered the final position round game in second place behind Michael Martell of Brooklyn, N.Y. but won the final game 245-172 to secure the 73-pin margin of victory.
Prior to joining the PBA, Major bowled briefly on the developmental team for Wichita State but returned to home to work in a local bowling center and compete in local amateur tournaments.
PBA Challenge events are open to any PBA member without a PBA title.
Major's win on Saturday earned him $1,500 while Martell earned $975 as the runner-up.
Next on the PBA East Region schedule is the Bowlero Wallingford Open in Wallingford, Conn. on June 18-20.
PBA COLONY PARK LANES CHALLENGE
Colony Park Lanes North, York, Pa., Saturday
Final Match Play Standings (after 14 games, including match play bonus pins)
Aaron Major, Brockton, Mass., 8-0, 3,212, $1,500.
Michael Martell, Brooklyn, N.Y, 5-3, 3,136, $975.
Michael Ruben, Selden, N.Y., 5-3, 3,042, $800.
Stephen Major, Brockton, Mass., 6-2, 3,035, $750.
Todd Sigeti, Stevens, Pa., 5-2-1, 3,005, $725.
Paul Smith, Madison, Conn., 4-3-1, 2,952, $700.
Jeremy Domingo, Sewell, N.J., 3-4-14, 2,911, $680.
Josh Lewis, Ashville, N.C., 4-4, 2,889, $660.
Jason Boyer, Birdsboro, Pa., 3-4-1, 2,888, $640.
Brian Prye, Waynesboro, Pa., 4-4, 2,874, $620.
Kurtis Stidd, Elizabethtown, Pa.., 4-4, 2,839, $600.
Don Herrington, Ballston Lake, N.Y., 4-4, 2,826, $590.
Adam Chase, Ronkonkoma, N.Y., 2-6, 2,819, $580.
Victor Florie, Jr., Richmond, Val, 2-6, 2,807, $570.
Peter Fox, W. Hartford, Conn., 3-5, 2,778, $560.
Greg Wilson, Warrenton, Va., 0-8, 2,594, $550.