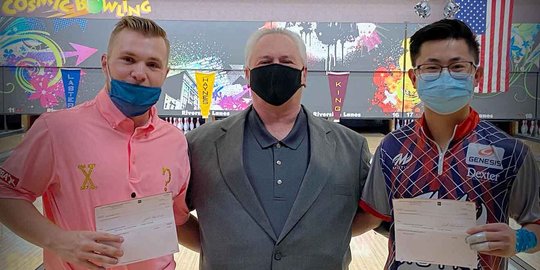 Wesley Low Jr. and Brennan Haugh dominate down the stretch to take home the 928 Power Sports Member/Non-Member Doubles
Laughlin, Nev. – Brennan Haugh of Scottsdale, Ariz., and Wesley Low Jr. of Wichita, Kan., won this past weekend's PBA 928 Power Sports Member/Non-Member Doubles at Riverside Lanes in Laughlin, Nev.
Both player's bowled seven games of qualifying on Saturday and 12 games of Baker match play Sunday to win the event by 123 pins over the doubles team of Villarreal/Booker. This event was the PBA's first in Laughlin, Nev. in over 15 years and didn't disappoint.
Due to Covid restrictions in Nevada, bowlers competed in a unique format and bowled on one lane, alternating between the odd and even lane to allow for social distancing.
Qualifying fourth out of 57 teams, Low/Haugh put together a 9-3 match play record on a very challenging Don Johnson pattern to take the lead with just four games left in competition and never looked back.
The doubles team of Villarreal and Booker shot a massive 280 in the twelfth game of match play to secure second place with a match play record of 8-4.
While the win was Haugh's first Regional title, the victory was extra special for Low Jr., who won his first event as a PBA member. Low Jr. won four PBA Regional events before he was a member and is now eligible to enter the PBA Tournament of Champions in 2022.
The PBA extends a special thank you to Brian Markowitz and the staff at Riverside Lanes for hosting the event on short notice. The PBA Regional Tour looks forward to heading back to South Point Casino in Las Vegas in the fall.
PBA 928 Power Sports Member/Non-Member Doubles
Riverside Lanes, Laughlin, Nev. February 28th, 2021
Final Match Play Standings (26 games, including match play bonus pins):
Low Jr/ N-Haugh, Wichita, Kan., 9-3, 5,884, $4,200.
Booker/ N-Villarreal, Anaheim, Calif., 8-4, 5,761, $2,500.
Boho /N-Hibbard, Indianapolis, Ind., 7-5, 5,612, $2,200.
Fitzgerald/ N-Jones, Phoenix, Ariz., 8-4, 5,600, $2,000.
Myers/ N-Blickenstaff, Phoenix, Ariz., 6-6, 5,586, $1,900.
Benard/ N-Gerencser, Henderson, Nev., 6-6, 5,456, $1,800.
Cooley/ N-Yamamoto., Australia, 6-6, 5,427, $1,600.
N-Klerk/ N-Jenkins, Chandler, Ariz., 4-8, 5,426, $1,500.
Haggerty/ N-Mayes, Roseville, Calif., 6-6, 5,372, $1,400.
N-Brunick/ N-Riley, Gilbert, Ariz., 4-8, 5,285, $1,300.
N-Valmonte/ N-Miyasato, Upland, Calif., 4-7-1, 5,203, $1,200.
Hofmann/ N-Roberts, Sun City, Ariz., 3-8-1, 5,131, $1,100.
n-denotes non-PBA member
Guaranteed Rate PBA Super Slam

Kia PBA Playoffs: Round of 16

Kia PBA Playoffs: Round of 16