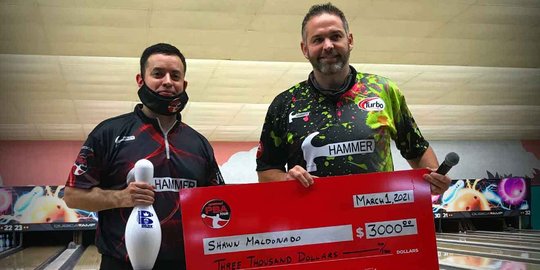 Shawn Maldonado Wins PBA Coatings Solutions Open
Brandon, Fla. – Shawn Maldonado of Houston, Texas, won his twelfth PBA Regional title at Oakfield Lanes in Brandon, Fla. on Saturday. Maldonado secured the win with a 2,844 total pinfall and 3-3 match play record.
Finishing in second place, was PBA Hall of Famer Tommy Jones of Simpsonville, S.C. Jones ended his day just 66 pins behind Maldonado with a 2,778 total pinfall and 5-1 match play record.
Wrapping up the top three spots was Kyle Sherman of O'Fallon, Mo., who finished with a 2,734 total pinfall and 2-4 match play record.
Maldonado, Jones, and Sherman earned $3,000, $1,600, and $1,400 respectively.
The PBA South Region's next tournament will be the PBA/PBA50 iRoof Ft. Myers Challenge at Lightning Strikes Lanes in Ft. Myers, Fla., March 5-7, 2021.
PBA COATINGS SOLUTIONS OPEN
Oakfield Lanes, Brandon, Fl., Monday
Final Match Play Standings (after 12 games)
Shawn Maldonado, Houston, Tex., 3-3, 2,844, $3,000.
Tommy Jones, Simpsonville, S.C., 5-1, 2,778, $1,600.
Kyle Sherman, O'Fallon, Mo., 2-4, 2,734, $1,400.
Carlos Granados, Orlando, Fla., 2,718, 3-3, $1,200.
Brian Robinson, Morgantown, W.Va., 4-2, 2,689, $1,100.
n-Sean Riccardi, St. Pete, Fla., 3-3, 2,675, $1,000.
Chris Barnes, Double Oak, Tex., 2-4, 2,659, $900.
Gregory Thompson Jr., Tempe, Az., 2-4, 2,578, $800.
300 Game:Colin Champion
n - amateur
Guaranteed Rate PBA Super Slam

Kia PBA Playoffs: Round of 16

Kia PBA Playoffs: Round of 16