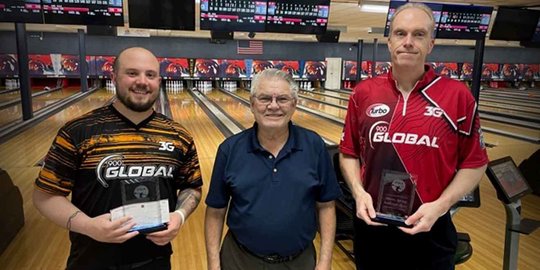 Anthony Lavery-Spahr and Mike Bailey Win PBA and PBA50 Regional Titles in Odessa
Odessa, Texas –Anthony Lavery-Spahr of Pasadena, Texas, won his seventh PBA regional title on Sunday's PBA Odessa Southwest Spring Open at Diamond Lanes. The victory solidified his fifth time in the winner's circle in Odessa.
Twin brother Sean Lavery-Spahr chased down Anthony throughout the event as they placed first and second after each round. After eight games of match play, Anthony won seven games to finish with 4950 total pins to Sean's 4838.
Anthony Lavery-Spahr earned $2,600 for the win, while Sean Lavery-Spahr collected $1,850. Sweden's Pontus Andersson won $1,500 for third place, and AJ Chapman received $1,200 for fourth place.
In the PBA50 competition, Mike Bailey, now living in Carrollton, Texas, finished on top of a quality field of senior players.
In the 21-game event, Bailey slowly moved up to secure the win. He started from third place after qualifying, to second place after the Casher's round, then finished match play with 255 and 257 games to coast his way to victory.
The win was Bailey's first of PBA50 Regional competition and his eighth overall PBA title, earning him $2,600.
Ricky Schissler finished in second place winning $1,725, and Hall of Famer Chris Barnes settled for third place collecting $1,350.
The PBA Southwest Region's next event will be the PBA Houston Copperfiled Challenge April 2-4, a non-champions event.
PBA ODESSA SOUTHWEST SPRING OPEN
Diamond Lanes, Odessa, Texas, Sunday
Final Standings (21 games)
Anthony Lavery-Spahr Pasadena, Texas 7-1 4950 $2,600.00
Sean Lavery-Spahr Pasadena, Texas 5-3 4838 $1,875.00
Pontus Andersson Sweden 6-2 4824 $1,500.00
AJ Chapman Manchester, Iowa 5-3 4699 $1,200.00
Shawn Maldonado Houston 6-2 4581 $1,000.00
Dimitri Cruz Denton, Texas 4-4 4546 $900.00
Stuart Williams Pflugerville, Texas 2-6 4500 $800.00
Deeronn Booker Anaheim, Calif. 4-4 4480 $750.00
Anthony Coats Pflugerville, Texas 3-5 4212 $700.00
(S) Lee Lorts Katy, Texas 3-5 4211 $650.00
(N) Cole Schroyer Aubrey, Texas 3-5 4188 $625.00
Arturo Quintero Mexico 0-8 4057 $600.00
n-denotes non-PBA member
PBA50 ODESSA SOUTHWEST OPEN
Diamond Lanes, Odessa, Texas, Sunday
Final Standings (21 games)
(S) Mike Bailey Carrollton, Texas 5-3 4849 $2,600.00
(S) Ricky Schissler Brighton, Colo. 6-2 4796 $1,725.00
(S) Chris Barnes Double Oak, Texas 6-2 4723 $1,350.00
(SS) Mark Williams Beaumont, Texas 6-1 4695 $1,050.00
(S) Steve Fields Roanoke, Texas 3-5 4498 $900.00
(S) David Scardaville Houston, Texas 3-5 4380 $800.00
(S) Tony Lanning Yukon, Okla. 2-5-1 4344 $700.00
(S) John Burkett Fort Worth, Texas 0-8 4218 $600.00
n-denotes non-PBA member, ss-denotes super senior (60+ years old)
Guaranteed Rate PBA Super Slam

Kia PBA Playoffs: Round of 16

Kia PBA Playoffs: Round of 16