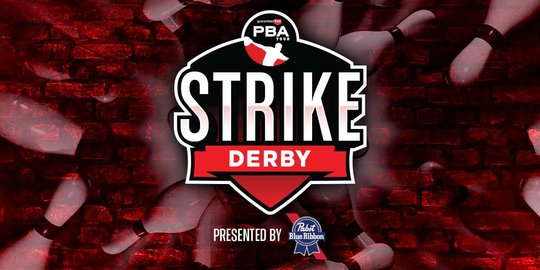 Second Annual PBA Strike Derby Presented by Pabst Blue Ribbon Airs July 11 on FS1
June 30, 2021
Jef Goodger
12 PBA pros see who can strike the most and claim the Strike Derby trophy
Portland, Maine—The PBA Strike Derby presented by Pabst Blue Ribbon, in which 12 of the best Guaranteed Rate PBA Tour professionals compete in a timed contest to see who can roll the most strikes, airs from Bayside Bowl Sunday, July 11 at 2 p.m. ET on Fox Sports' FS1.
Each player will have two minutes to roll as many strikes as he can. After all 12 players have taken their turns, the top six will advance into match play. Those qualifying first and second will receive byes into the semifinals, while those qualifying third through sixth will need to win a match to reach the semifinals. All matches will also allot two minutes to each player.
Here are some things to look for heading into the 2021 PBA Strike Derby Presented by Pabst Blue Ribbon:
Prather Attempts to Defend His Championship
During last year's inaugural edition of the Strike Derby, three-time PBA Tour champion Kris Prather emerged as the victor, defeating Anthony Simonsen in the final match. Prather, who also left last season's King of the Lanes as King, will be extra motivated to hang on to the Strike Derby trophy after losing his crown to Chris Barnes in the 2021 PBA King of the Lanes presented by Pabst Blue Ribbon.
Expanded Field for 2021
Last season's Strike Derby featured eight PBA Tour pros, but with four more added for 2021, striking often during the qualifying round will be especially important for the players. Returning from last year are Prather, Simonsen, Sean Rash, Kyle Troup and EJ Tackett, with the other seven slots going to first-time Strike Derby participants.
Seven Players Make Strike Derby Debuts
Norm Duke, Packy Hanrahan, Andrew Anderson, Wes Malott, Jesper Svensson, Tom Smallwood and Marshall Kent will be making their first appearances in the PBA Strike Derby. Anderson has a bit of experience in this format, having defeated Rash in a special exhibition during the 2019 CP3 PBA Celebrity Invitational, but the other players will be competing in speed bowling for the first time at the PBA level.
Viewers can live stream the PBA on the FOX Sports and FOX NOW apps or at FOXSports.com. Select highlights will be available on @FOXSports social handles across Twitter, Facebook, Instagram and YouTube. International fans can watch live on FloBowling.com.
PBA Strike Derby Presented by Pabst Blue Ribbon Competitors
Bayside Bowl – Portland, Maine
Norm Duke
Packy Hanrahan
Anthony Simonsen
Kyle Troup
Andrew Anderson
Wes Malott
EJ Tackett
Sean Rash
Jesper Svensson
Tom Smallwood
Kris Prather
Marshall Kent
About the PBA
The Professional Bowlers Association (PBA) is the world's preeminent organization dedicated to the sport of bowling and its professional competition, with thousands of members and millions of fans throughout the world. The PBA plays host to bowling's biggest tournaments from the PBA Tour, PBA Regional Tour, and PBA50 Tour. In 2020, the PBA launched PBA Jr., a club for elite youth bowlers under the age of 17 and the PBA Pinsiders, a membership for fans of the sport. For more information, please visit PBA.com.