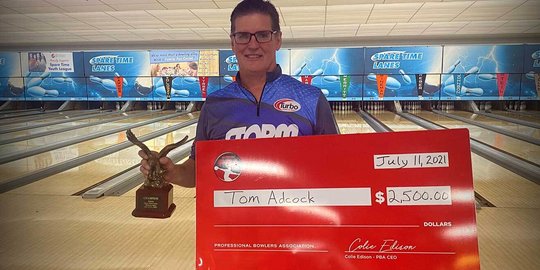 Tom Adcock Wins PBA50 Spare Time Lanes Midwest Open
July 18, 2021
Regional Director
Lee's Summit, Mo. – Tom Adcock of Decatur, Ill. stayed clean in the tenth frame of the position round final match to win the PBA50 Spare Time Lanes Midwest Open and $2,500 first place prize.
Adcock, who secured the number seed heading into the final game, had competition from second seed, Eugene McCune, and third seed Tom Hess, who were moving in and out of first place throughout match play competition.
Adcock, narrowly secured the top seed with an 18-pin lead over McCune. In the ninth frame of the final game, Adcock and McCune were only one pin apart when disaster struck for McCune, who left a nearly impossible 3-4-6-7-10 on his first ball. McCune failed to cover, opening the door for Adcock who took advantage of an opportunity and emerged victorious.
Tom Hess also made some noise of his own starting the final game with seven strikes. Hess, who was trying to duplicate his 289 game 10 score to lead frog over the leaders, came up just short of first, securing second place and $1,300. McCune rounded out the top three and earned $1,000 for his efforts.
The PBA Midwest Region moves to Arlington Heights, Ill. for the PBA50 Beverly Lanes Midwest/Central Open on July 23-25, 2021.
PBA50 Spare Time Lanes Midwest Open
Spare Time Lanes, Decatur, IL, Friday, 7/9/21 – Sunday, 7/11/21
Final Match Play Standings (after 20 games, including match play bonus pins)
Tom Adcock, Decatur, IL, 7-5-0, 4694, $2,500
Tom Hess, Granger, IA, 8-4-0, 4,651, $1,300
Eugene McCune, Munster, IN, 8-4-0, 4,620, $1,000
Pete Weber, St. Ann, MO, 9-3-0, 4,440, $850
Lennie Boresch, Jr, Kenosha, WI, 7-5-0, 4,409, $800
SS – Rick Woloszyn, Griffith, IN, 7-5-0, 4,328, $775
Mark Sullivan, Indianapolis, IN, 4-8-0, 4,260, $750
Billy Frobert, Stevensville, MI, 6-6-0, 4,201, $740
SS – Lyle Zikes, Arlington Heights, IL, 4-8-0, 4,053, $730
Jermey Wolfe, Watertown WI, 6-6-0, 4,045, $720
Danny Clark, New Palestine, IN, 5-7-0, 4,006, $710
N – Rick Coy, Taylorville, IL, 1-11-0, 4,002, $700
Other Cashers Standings (after seven games)
13. Jeff Johnson, Freeport, IL, 1,619, $600
14. David Tyrrel, Harlan, IA, 1,610, $590
Senior Casher (after seven games)
18. SS – Harry Sullins, Chesterfield Twp., MI, 1,555, $275
20. SS – Paul Mielens, Menomonie, WI, 1549, $275
Key:
N – Designates Non-Member entry
SS – Designates Super Senior entry