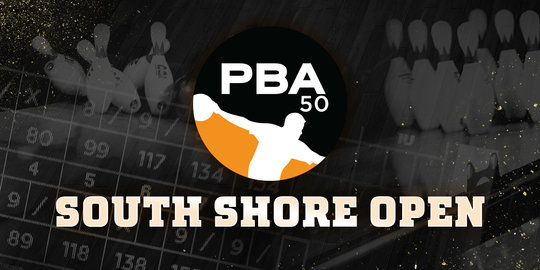 McCune leads at PBA50 South Shore Open
July 27, 2021
Jill Winters
Hammond, Indiana – Eugene McCune is right at home for this week's PBA50 South Shore Open, which began Tuesday. The Munster, Indiana native is bowling a short distance from home at Olympia Lanes, the same center where he won the 2018 PBA50 South Shore Open.
However, that win didn't count as a PBA50 tour title because he was a non-member at the time and considered an amateur. This time around he is a member, and he is ready to make it count.
In practice McCune tried to play straighter but quickly decided that was not the right strategy so he sent his son, Kevin, back to the paddock for his shiny Roto Grip RST. He moved left, threw the ball to the right, and let his rev rates do the rest.
He cruised through the first seven games of qualifying rolling games of 267, 237, 268, 236, 257, 255 and 258 for 1,778. Putting him in first place averaging 254, sitting at +378. Behind him is fellow B squad bowlers Amleto Monacelli at 1,753 and Bob Learn Jr. with 1,658 to round out the top three. Both Monacelli and Learn had 300 games.
"I was standing 20 boards left and getting out to five using revs," he said about attacking the lane conditions. "All I had to do was get it off my hand. It's good to have days like that."
McCune, who works about 18 hours a day between two jobs, doesn't get much time to practice so he bowls regional events when he can to try and stay tournament ready.
"I used to bowl league here (Olympia Lanes) and we just had a senior regional this past weekend, so I had enough practice there," said the 53-year-old. "I ended up winning that for my third senior regional of the year."
Norm Duke was the high bowler for the A squad averaging 235.29 with a 1,647. He had games of 225, 238, 240, 200, 244, 253 and 247 to get to +247.
"It's squad one and it takes three or four games to settle in," Duke said. "Once I settled in, we were good to go."
Duke started by using his Roto Grip Idol and finished up a Roto Grip Rubicon.
The B squad will hit the lanes first starting at 10 a.m. Eastern on Wednesday with seven more games of qualifying followed by the A squad beginning at 2:30 p.m. all on FloBowling.com. The 101-player field will then be cut to the top 32 and all pins will carryover into match play on Thursday.
View the full standings at PBA50 South Shore Open | PBA.
Eugene McCune 1,778
Amleto Monacelli 1,753
Bob Learn Jr. 1,658
Norm Duke 1,647
Lennie Boresch Jr. 1,626
Joel Carlson 1,617
Parker Bohn III 1,611
Tom Hess 1,606
Mark Sullivan 1,605
Brad Angelo 1,602