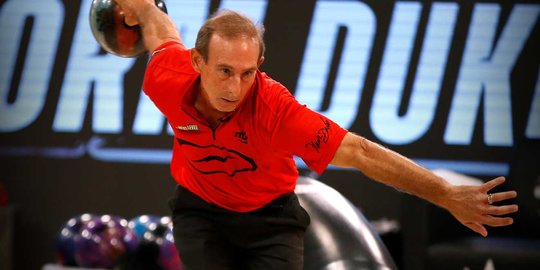 Duke takes over lead at PBA50 South Shore Open
July 28, 2021
Jill Winters
Hammond, Indiana – When a bowler feels comfortable in a bowling center it can have a big impact on their performance. Norm Duke has bowled a handful of tournaments at Olympia Lanes and that experience helped him move into first place on Wednesday after 14-games of qualifying at the 2021 PBA50 South Shore Open.
Duke paired his opening day qualifying total of 1,647 with scores of 215, 280, 236, 267, 266, 269 and 204 for 1,737 to improve to 3,384 overall. As was the theme from day one, the second squad posted the highest scores of the day. Pete Weber jumped from a tie for 18th place after seven games to a tie for fourth place with Amleto Monacelli after game 14.
"When you move lanes, you try to get as lined up as quick as possible," Duke said. "Experience is definitely an advantage if you have got it."
He was able to rely on his Roto Grip Rubicon for all seven games, the same ball he had late success with on Tuesday.
"I know those guys that are bowling for the lead with me are strong, so my mindset is buckle down for tomorrow," Duke said.
As for the B squad, Eugene McCune posted the highest second block with games of 187, 287, 185, 259, 203, 225 and 243 to increase his total to 3,367, which moved him down one spot to second place.
McCune, who averaged 254 on day one, noticed big differences from pair-to-pair and a quick transition within games.
"I'd get a four-bagger then open three or four times, so it was frustrating," he said. "I started throwing it 100-miles-per-hour toward the headpin and just had to grind it out."
He started out with his 900Global Aspect moved on to his Storm Phaze II and went back to his Roto Grip RST X-1 from the first day to finish out his final two games.
"I put up good scores that guys were doing the previous day and felt good about that," he said.
The field was cut to the top 32 and Kevin Anderson was the last bowler in with 2,913 total pins, averaging 208.07.
All pins carryover into two sets of six-games of match play beginning at 10 a.m. Eastern Thursday broadcasted live on FloBowling.com. Then the top five will advance to the stepladder finals scheduled to start at 8 p.m.
View the full standings at PBA50 South Shore Open | PBA
Top 10 PBA50 South Shore Open
Norm Duke 3,384
Eugene McCune 3,367
Bob Learn Jr. 3,211
Amleto Monacelli 3,202
Pete Weber 3,202
Brad Angelo 3,174
Brian LeClair 3,171
Christopher Keane 3,158
Tom Hess 3,155
Lennie Boresch Jr. 3,151
Parker Bohn III 3,127