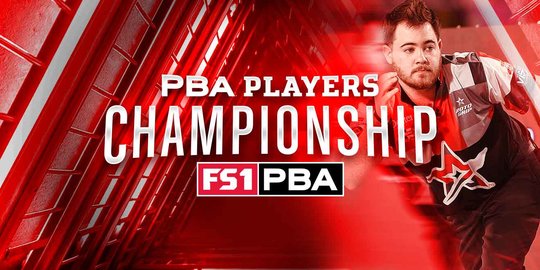 Simonsen Leads the Field into PBA Players Championship West Region Finals
January 19, 2021
Jef Goodger
West Region Stepladder Finals air Sunday, Jan. 24 at noon ET on FS1
New York, NY—Anthony Simonsen, the top seed in the West Region, will bowl for a berth in the PBA Players Championship Finals in the first of five Regional Finals telecasts to air on Fox Sports' FS1 over the next several weeks.
The 24-year-old Simonsen posted four runner-up finishes in 2020, two of which came in majors, but was unable to win a title for the first time since the 2015 season. The only major championship in which Simonsen did not qualify for the stepladder finals last year was the Players Championship. A win in the West Region would earn Simonsen a chance at his second career victory in the Players Championship and third major title overall.
Second seed Wesley Low Jr. is making his first career televised finals appearance. The 23-year-old Low began competing full-time in 2020 and is in his extended rookie season on the PBA Tour due to the shortened 2020 season. In July of last year, the multi-time Junior Team USA and Team USA member rolled the 36th USBC-sanctioned 900 series in history and now looks to add a national PBA Tour title to his résumé.
Seven-time PBA Tour champion Jakob Butturff occupies the third rung of the stepladder, finishing just nine pins behind Low through 28 games of qualifying. Butturff is looking for his first title since he won twice in the 2019 season and finished second in Player of the Year voting.
Darren Tang, who led last season's opening event before finishing second to Tommy Jones in the Hall of Fame Classic, has another opportunity to begin the season by bowling for a title. Tang closed the 2020 season, in which he posted a career high in earnings, by finishing third in the Scorpion Championship and fourth in the Cheetah Championship.
Facing Tang in the first match is Kris Koeltzow, who is making his televised finals debut. Koeltzow held off late charges by PJ Haggerty and Sam Cooley to lock down the fifth spot on the stepladder. The 29-year-old from Wheat Ridge, Colorado won his second PBA regional title in December when he defeated Low in the title match of the PBA Grand Casino Resort & Hotel Southwest Invitational.
The West Region Finals air live on Sunday, Jan. 24 at noon ET on FS1. The winners from all five regions will advance to the PBA Players Championship Finals, which will air live on FOX Broadcast Channel Feb. 21, featuring a top prize of $250,000.
West Region Stepladder Finals
Bowlero Jupiter – Jupiter, Fla.
Sunday, Jan. 24 at noon ET on FS1
Stepladder Finalists
Anthony Simonsen
Wesley Low Jr.
Jakob Butturff
Darren Tang
Kris Koeltzow
Full West Region standings: pba.com/node/117446
PBA Players Championship Television Schedule
Bowlero Jupiter – Jupiter, Fla.
Sunday, Jan. 24 at noon ET on FS1 – West Region Finals
Sunday, Jan. 31 at 2 p.m. ET on FS1 – Southwest Region Finals
Saturday, Feb. 6 at 4 p.m. ET on FS1 – Midwest Region Finals
Sunday, Feb. 7 at 2 p.m. ET on FS1 – East Region Finals
Sunday, Feb. 14 at 1 p.m. ET on FS1 – South Region Finals
Sunday, Feb. 21 at 12:30 p.m. ET on FOX – PBA Players Championship Finals
About the PBA
The Professional Bowlers Association (PBA) is the world's preeminent organization dedicated to the sport of bowling and its professional competition, with thousands of members and millions of fans throughout the world. The PBA plays host to bowling's biggest tournaments from the PBA Tour, PBA Regional Tour, and PBA50 Tour. In 2020, the PBA launched PBA Jr., a club for elite youth bowlers under the age of 17 and the PBA Pinsiders, a membership for fans of the sport. For more information, please visit PBA.com.