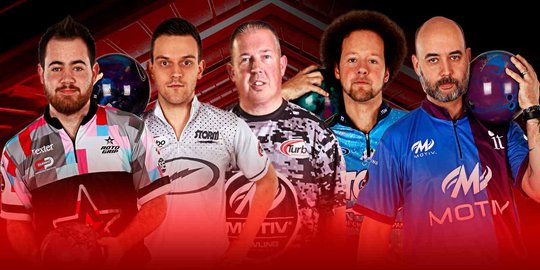 Kyle Troup Claims Top Seed for PBA Players Championship
February 20, 2021
Jef Goodger
Troup will bowl for a chance at $250,000 in the title match
Jupiter, Fla.—Kyle Troup rolled a three-game series of 741 to earn the top seed for tomorrow's PBA Players Championship stepladder finals, airing live tomorrow at 12:30 p.m. ET on FOX Broadcast Channel.
Following Troup are François Lavoie (726), Dick Allen (717), Tom Smallwood (709) and Anthony Simonsen (694). The three-game, total-pinfall seeding round streamed live on FloBowling to position each of the five PBA Players Championship Regional winners into tomorrow's finals.
By earning the No. 1 seed, Troup guaranteed himself a minimum of $130,000. He also will have a chance at the $250,000 first prize as well as an opportunity to potentially secure a $1 million bonus if he can roll a perfect game in the title match.
Seeding Round Final Scores
Kyle Troup, 741, (238, 279, 224)
François Lavoie, 726, (245, 224, 257)
Dick Allen, 717, (258, 226, 233)
Tom Smallwood, 709, (258, 225, 226)
Anthony Simonsen, 694 (235, 237, 222)
About the PBA
The Professional Bowlers Association (PBA) is the world's preeminent organization dedicated to the sport of bowling and its professional competition, with thousands of members and millions of fans throughout the world. The PBA plays host to bowling's biggest tournaments from the PBA Tour, PBA Regional Tour, and PBA50 Tour. In 2020, the PBA launched PBA Jr., a club for elite youth bowlers under the age of 17 and the PBA Pinsiders, a membership for fans of the sport. For more information, please visit PBA.com.