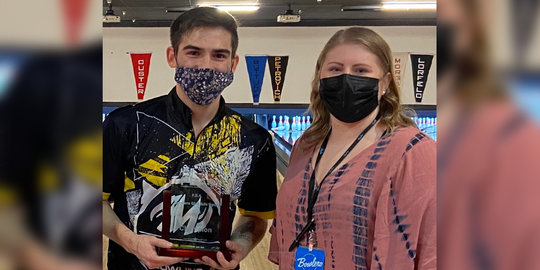 Kyle Duster wins PBA Glendale Open
February 4, 2021
ddziomba
Glendale, Ariz. – Kyle Duster, from Scottsdale, Ariz., held off four charging competitors during the last game of the PBA Glendale Open on Sunday to take home the first-place prize in one of the most drama-filled PBA Regional events in recent history.
Heading into the position round of match play, Duster had a slim 23-pin lead over Sam Cooley of Australia, while PBA Major Champion Jakob Butturff was just 80-pins back sitting in fourth place. Butturff fired a nearly perfect 290 in the last game to apply pressure on Duster and Cooley.
As Butturff wrapped up his last game, Duster and Cooley were just in the seventh frame of the final match and knew exactly what they needed to secure the victory.
Cooley, who needed a win to be eligible for the PBA Tournament of Champions later this month had trouble in the eighth and ninth frames, while Duster stepped up in the 10th. Duster, just needing a mark, rolled a strike to secure a 28-pin victory over Butturff.
Behind the trio of Duster, Butturff and Cooley was Darren Tang, of Las Vegas, and PJ Haggerty, of Roseville, Calif.
The PBA Glendale Open began the start of the 2021 PBA Region points race. Duster, who is just in his second full year on the Tour, is off to a great start.
PBA Glendale Open
Bowlero Glendale, Glendale, Ariz., Sunday
Final Match Play Standings (after 14 games, including match play bonus pins):
Kyle Duster, Scottsdale, Ariz., 6-2, 3,369, $2,000.
Jakob Butturff, Tempe, Ariz., 4-4, 3,341, $1,250.
Sam Cooley, Australia, 5-3, 3,291, $1,000.
Darren Tang, Las Vegas, 5-3, 3,269, $900.
PJ Haggerty, Roseville, Calif., 6-2, 3,264, $850.
N-Dallas Leong, Las Vegas, 4-4, 3,209, $775.
N-Chad Lusche, Gilbert, Ariz., 5-3, 3,175, $700.
N-Cortez Schenck, Scottsdale, Ariz., 4-4, 3.038, $650.
Greg Thompson Jr., Tempe, Ariz., 4-4, 3,015, $600.
Lanndyn Carnate, Redding, Calif., 4-4, 2,924, $550.
Matt Zweig, Tempe, Ariz., 1-7, 2,890, $500.
Michael Fitzgerald, Phoenix, Ariz., 0-8, 2,827, $450.
n-denotes non-PBA member
PBA WSOB XII PBA World Championship

Roth/Holman Doubles From the WSOB XII

PBA WSOB XII Cheetah Championship