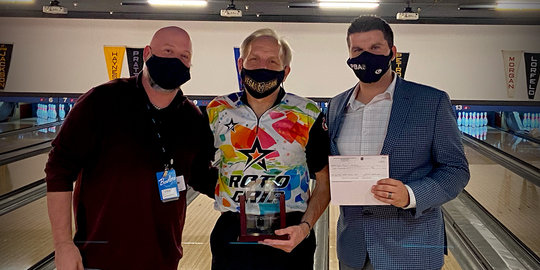 Hall of Famer Ron Mohr Outlasts a Full Field in Glendale
February 1, 2021
ddziomba
Glendale, Ariz. – Ron Mohr, from Las Vegas, outlasted a full field of 50 senior bowlers to take home his 21st PBA Regional Title and first in four years on Saturday at Bowlero in Glendale, Ariz.
Mohr, who was inducted in the PBA Hall of Fame in 2018, went 7-1 in match play and averaged 213 on the demanding PBA Earl Anthony pattern to come from behind. In the last game of the day, Mohr shot 234 to leapfrog into first place over David Leverage. Mohr earned $2,000 for his first-place finish.
Leverage, from nearby Peoria, Ariz, led the field most of the day but ran into trouble during his last game, which cost him the victory. Right behind Leverage in third place was Steve Smith from San Diego, Calif., who went 5-2-1 in match play.
The PBA50 Glendale Open kicked off the 2021 PBA50 Western Region season with Regional champions and new members. Five Regional champions advanced to match play.
PBA50 Glendale Open
Bowlero Glendale, Glendale, Ariz., Saturday
Final Match Play Standings (after 14 games, including match play bonus pins):
Ron Mohr, Las Vegas, 7-1, 3,204, $2,000.
David Leverage, Peoria, Ariz., 6-2, 3,154, $1,200.
Steve Smith, San Diego, Calif., 5-2-1, 3,122, $1,000.
Mike Keough, Stockton, Calif., 4-4, 3,030, $850.
Derek Gregory, Chowchilla, Calif., 4-4, 3,008, $750.
N-Jim Montgomery, Byron, Ill., 5-3, 2,946, $675.
Lance Lorfeld, University Place, Wash., 4-4, 2,931, $600.
Gerald Vertigan, Yorba Linda, Calif., 1-7, 2,845, $550.
Dave Han, Alabaster, Ala., 3-4-1, 2,812, $500.
Troy Kendrick, Las Vegas, 3-5, 2,791, $450.
Craig Newcomb, Pierre, SD., 3-5, 2,776, $425.
Shawn Hohnstein, Hereford, Ariz., 2-6, 2,773, $400.
n-denotes non-PBA member
PBA WSOB XII PBA World Championship

Roth/Holman Doubles From the WSOB XII

PBA WSOB XII Cheetah Championship