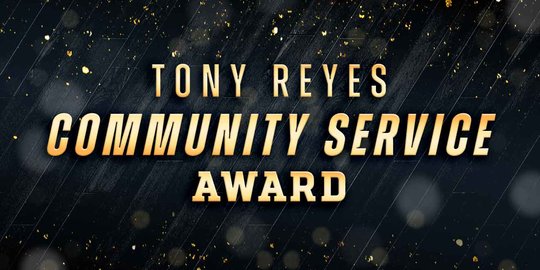 Warren Eales Receives 2021 Tony Reyes Community Service Award
December 13, 2021
Jef Goodger
Honored for years of helping the international bowling community compete professionally
New York, N.Y.—Warren Eales was selected by a PBA executive committee as the recipient of the 2021 Tony Reyes Community Service Award, recognizing Eales' efforts in assisting the international bowling community to be able to compete, particularly during the COVID-19 pandemic.
"It was quite a surprise," said Eales of hearing the news from PBA Tour commissioner Tom Clark. "When I get a call from Tom, I always think it's an international player with an issue. It's a great honor and I'm very pleased I was able to help out and they thought this was worth recognizing. I'm elated all the way around."
Eales, who works as port director for U.S. Customs and Border Protection in Las Vegas, has been assisting international players for years with getting into and out of the United States to compete, but the pandemic created unique challenges during the end of the 2020 season and into 2021.
When the pandemic interrupted the World Series of Bowling in March of 2020, leaving the animal-pattern events unfinished, Eales approached Clark and offered assistance if and when the PBA was able to resume competition.
"There's a way to get athletes into the country called a National Interest Exemption," said Eales. "Individuals can't apply for it but a team or a league can apply on the players' behalf. All communication had to go through the PBA, but since U.S. Customs is involved and I'm familiar with the process, I was at least able to point Tom in the right direction and give guidance on any specific issues players were facing in different countries around the world."
Late in 2020, the PBA planned to conclude its season with the finals of the animal patterns, the PBA League and ultimately the PBA Playoffs. A total of 67 PBA and PWBA players qualified for one or more of those events. 18 of those players were from outside the United States, although seven were living in the country at the time.
With Eales' help, every single player who earned a spot was able to enter the country and compete.
"As a bowler and lifetime fan, I want to see these events go on," said Eales, who won the 2018 PBA50 Lucas Magazine Classic. "What do you do if you can't get the players who earned their way in? It was a bit of a relief to know it worked out."
The National Interest Exemptions are valid for a year, so the players who came over in late 2020 were also able to come and go as needed for the early 2021 PBA Tour events. For Eales, the motivation is simple: help the bowling community.
"I'm a fan, I'm a player, I've bowled since I was eight years old and I've followed the PBA from that time until now, so to be in a position to help the players and keep the events going is very gratifying," said Eales. "I'm in a unique position to be able to help professionally and happy to do it."
Eales is retiring at the end of the week after 35 years in U.S. Customs and Border Protection.
Established in 2013, the Tony Reyes Community Service Award recognizes a current PBA member who exemplifies extraordinary community service, charitable or educational contributions over the course of a PBA season. Reyes, who passed away in 2012, was an eight-time PBA Regional champion, collegiate All-American and the 18th player in PBA history to bowl a 300 game on national television.
"It's very flattering to receive an award in Tony's name," said Eales. "I'm grateful for the recognition and for being considered for something like this. It's a great honor."
Previous Tony Reyes Community Service Award Recipients
2020 – Danny Wiseman
2019 – Chuck Gardner
2018 – Chris Barnes
2017 – Del Ballard Jr.
2016 – Rhino Page
2015 – Ed Godbout
2014 – Missy Parkin
2013 – Parker Bohn III
About the PBA
The Professional Bowlers Association (PBA) is the world's preeminent organization dedicated to the sport of bowling and its professional competition, with thousands of members and millions of fans throughout the world. The PBA plays host to bowling's biggest tournaments from the PBA Tour, PBA Regional Tour, and PBA50 Tour. In 2020, the PBA launched PBA Jr., a club for elite youth bowlers under the age of 17 and the PBA Pinsiders, a membership for fans of the sport. For more information, please visit PBA.com.