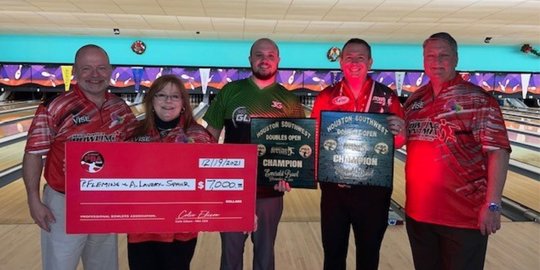 Paul Fleming, Anthony Lavery-Spahr Win PBA50/PBA Houston Southwest Doubles Title
December 20, 2021
Regional Director
Houston, Texas – Anthony Lavery-Spahr, from Pasadena, Texas, teamed up with Paul Fleming, of Fort Worth, Texas, to win the ninth annual PBA50/PBA Houston Emerald Bowl Southwest Doubles, presented by Bowling Dynamix on Sunday.
The winning duo finished fourth in Saturday's eight game qualifying round, then on Sunday, won their first nine games in the ten-game round robin match play to take the lead heading into the final game.
In the final position round game, Fleming/Lavery-Spahr took on the qualifying leaders – Hall of Famer Chris Barnes, now living in Denton, Texas, and Stu Williams, the Englishman, now living in Pflugerville, Texas. Barnes/Williams defeated Fleming/Lavery-Spahr, 491-470, but were out bowled by Tom Hess, from Urbandale, Iowa, and A.J. Johnson, of Oswego, Ill., who defeated Tom Adcock, of Decatur, Ill., and Jake Peters, from Henderson, Nev., 504-363 to edge Barnes/Williams by one pin for second place.
Fleming/Lavery-Spahr earned $7,000 for first-place, Hess/Johnson collected $3,750 for second, and Barnes/Williams received $2,400 for third.
PBA50/PBA HOUSTON EMERALD BOWL SOUTHWEST DOUBLES, presented by Bowling Dynamix
Emerald Bowl, Houston, Texas, Sunday Final Match Play Standings (after 18 game, including match play bonus pins):
Paul Fleming / Anthony Lavery-Spahr Ft. Worth, Texas/Pasadena, Texas
9-1-0 +1689 $7,000.00
Tom Hess / AJ Johnson Granger, Iowa/Oswego, Ill.
6-4-0 +1373 $3,750.00
Chris Barnes / Stuart Williams Double Oak, Texas/Pflugerville, Texas
5-4-1 +1372 $2,400.00
Dino Castillo / Shawn Maldonado Highland Village, Texas/Houston
3-7-0 +1108 $1,900.00
Tom Adcock / Jake Peters Decatur, Ill./Henderson, Nev.
4-6-0 +1079 $1,650.00
Rick Benard / Deo Benard Keller, Texas/Henderson, Nev.
4-6-0 +889 $1,450.00
Daniel Inocencio / Dimitri Cruz College Station, Texas/Denton, Texas
6-3-1 +819 $1,300.00
Derek Williams / Justin Bui Groves, Texas/Terrytown, Lou.
4-6-0 +817 $1,200.00
Keith Lesko / AJ Chapman Prosper, Texas/Manchester, Iowa
4-6-0 +715 $1,150.00
Walter Ray Williams Jr. / Chris Via Oxford, Fla./Springfield, Ohio
4-6-0 +684 $1,100.00
n-Denotes non-PBA member
300 Games: Deo Benard, Anthony Lavery-Spahr