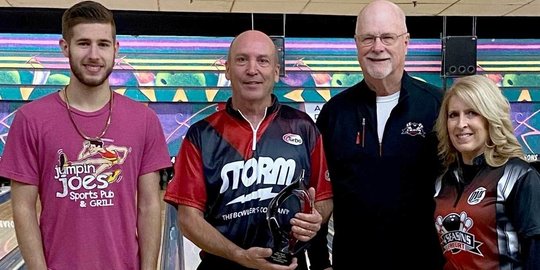 Joel Carlson Wins the PBA50 Western Bowling Proprietors Insurance Greater Freeport Midwest RPI Open
December 27, 2021
Regional Director
Freeport, IL – Joel Carlson of Omaha, Neb. defeated Lennie Boresch, Jr. of Kenosha, Wis., 264-215, in the position round of match play to win the PBA50 Western Bowling Proprietors Insurance Greater Freeport Midwest RPI Open. Carlson's win and Boresch's second place finish earned them each a spot in the PBA Regional Players Invitational (RPI) on January 2-5, 2022 in Las Vegas.
Prior to the final match, John Marsala and Tom Adcock had a chance to capture an RPI spot, separated by only seven pins, 60 and 67 pins behind second place respectively.
Boresch led the qualifying round over Adcock and Larry Verble by 22 and 23 pins. After seven match play games, Boresch increased his lead to 65 pins over Carlson. Carlson's huge 264 final game was enough to close the gap and finish in first place.
The event was the highest scoring Midwest Regional of the 2021 season.
PBA50 Western Bowling Proprietors Insurance Greater Freeport Midwest RPI Open
4 Seasons Bowl, Freeport, IL, Friday, December 3 – Sunday, December 5, 2021
Final Match Play Standings (including match play bonus pins)
Joel Carlson, Omaha, Neb., 5-3-0, 3,944, 237.13 avg, $2,000
Lennie Boresch, Jr, Kenosha, Wis., 5-3-0, 3,930, 236.25 avg, $1,200
Tom Adcock, Decatur, Ill., 6-2-0, 3,825, 227.81 avg, $900
John Marsala, St Louis, Mo., 6-2-0, 3,779, 224.94 avg, $700
Eugene McCune, Munster, Ind., 4-4-0, 3,742, 226.38 avg, $675
Jeff Johnson, Freeport, Ill., 2-6-0, 3,683, 226.44 avg, $650
N – Steven Brinkman, Sussex, Wis., 4-4-0, 3,608, 218 avg, $625
Larry Verble, Mason, Mich., 0-8-0, 3,530, 220.63 avg, $600
Other Cashers (after eight games)
Todd Kjell, Roscoe, Ill., 1,681, 210.13 avg, $470
Tom Hess, Granger, Iowa, 1,674, 209.25 avg, $460
Gary Alstott, Washington, Ill., 1,671, 208.88 avg, $450
Super Senior Cashers (after eight games)
SS – Robert Kicmal, LaGrange, Ill., 1,642, 205.25 avg, $293
SS – James Knoblauch, Waukesha, Wis., 1,629, 203.63 avg, $293
Key:
SS – Designates Super Senior entry
N – Designates Non-Member entry