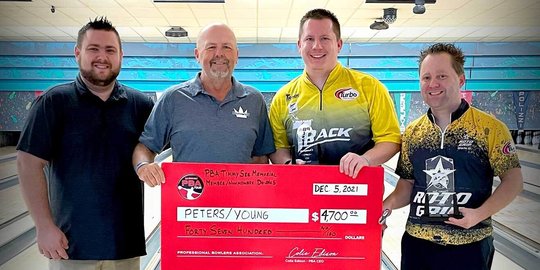 Jake Peters and Geoffrey Young Victorious in Yulee Member/Non-Member Doubles
December 5, 2021
Regional Director
Yulee, Fla. – The team of Jake Peters of Henderson, Nev., and amateur Geoffrey Young of Roanoke, Texas, defeated Dick Allen of Lexington, S.C., and amateur Kory Driver of Ormond Beach, Fla., 198-140, in the PBA South Region Timmy See Memorial Member/Non-Member Doubles at Yulee Bowling Center on Sunday.
Peters and Young earned the $4,700 first-place prize.
In the opening stepladder match, the team of Colin Champion of Spring Hill, Fla., and Ethan Fiore of Valrico, Fla., defeated the team of Kristijonas Sergejevas of Kaunas, Lithuania, and amateur Verity Crawley of Lake Wales, England 208-175. Then Allen and Driver defeated Champion and Fiore, 235-227, in the semi-finals, which set up the title match.
Allen and Driver earned $2,400 for their second place finish, while Champion and Fiore took home $2,000 for third, and Sergejevas and Crawley got $1,800 for their fourth place effort.
PBA TIMMY SEE MEMORIAL MEMBER/NON-MEMBER DOUBLES
Yulee Bowling Center, Yulee, Fla., Sunday
Final Standings:
Jake Peters, Henderson, Nev./n-Geoffrey Young, Roanoke, Texas, $4,700.
Dick Allen, Lexington, S.C./n-Kory Driver, Ormond Beach, Fla., $2,400.
Colin Champion, Spring Hill, Fla./n-Ethan Fiore, Valrico, Fla., $2,000.
Kristijonas Sergejevas, Lithuania/n-Verity Crawley, England, $1,800.
Stepladder Results:
Match One – Champion/Fiore def. Sergejevas/Crawley, 208-175.
Semi-final Match – Allen/Driver def. Champion/Fiore, 235-227.
Championship Match – Peters/Young def. Allen/Driver, 198-140.
Final Match Play Standings (after 8 regular team games, and 8 baker match play games, including match play bonus pins)
Peters/Young, 4-4-0, 5,366.
Allen/Driver, 6-2-0, 5,295.
Champion/Fiore, 3-5-0, 5,265.
Sergejevas/Crawley, 4-4-0, 5,251.
Mike Coffey, Melbourne, Fla./n-Paul Koehler, Stuart, Fla., 6-2-0, 5,203, $1,600.
Brandon Curtis, Manson, N.C./n-Chris Loschetter, Avon, Ohio, 6-2-0, 5,122, $1,400.
Mike Preston, Gainesville, Fla./n-Chris Kruschke, Palatka, Fla., 3-5-0, 4,990, $1,300.
Nate Garcia, Port St. Lucie, Fla./n-Andrew Colon, San Antonio, Fla., 0-8-0, 4,921, $1,200.
n-designates non-PBA member