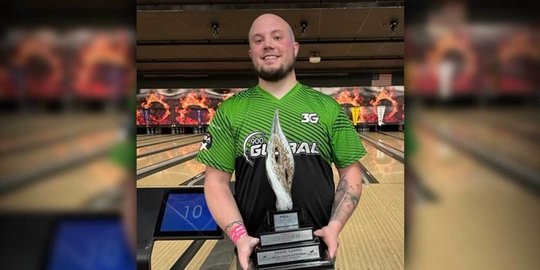 Anthony Lavery-Spahr Wins PBA Grand Casino Hotel & Resort Southwest Invitational
December 7, 2021
Regional Director
Shawnee, Okla. – Anthony Lavery-Spahr from Pasadena, Texas defeated Stuart Williams, who now lives in Pflugerville, Texas, 244-233, to win the eighth annual PBA Grand Casino Hotel & Resort Southwest Invitational at FireLake Bowling Center Sunday.
Lavery-Spahr's $4,000 winner's check was an early birthday present as he celebrated his 31st birthday the day after the victory.
In the title match, both finalists opened once in the first two frames, then started stringing strikes. Lavery-Spahr grabbed the lead with five strikes as Williams was able to get his string of strikes going, too. As Williams was closing in on Lavery-Spahr late in the game, Williams failed to strike and spared twice. Lavery-Spahr seemingly had the match won until he missed a ten-pin spare in his ninth frame. Williams then finished the game with four strikes, forcing Lavery-Spahr to mark in the tenth frame. Lavery-Spahr answered the challenge with a strike to claim his ninth PBA Regional title.
After 12 games of qualifying, Lavery-Spahr was the sixth seed, and started his road to victory with a 3-1 win in the best of five matches against Tony Lanning, from Yukon, Okla. And Dino Castillo, of Carrollton, Texas fell to Lavery-Spahr 2-1 in the best of three, Round of 8 matches. A.J. Chapman, of Lewisville, Texas, fell to Lavery-Spahr in the semi-final match 215-202.
Williams advanced to the Finals with victories over Deo Benard, from Henderson, Nev., then former US Open champion Francois Lavoie, now living in Wichita, Kan., followed by a victory over Brad Miller, from Lee's Summit, Mo.
Williams earned $2,500 for second place. Miller and Chapman each received $1,500.
The Southwest Region's final 2021 event will be the PBA50/PBA Houston Emerald Bowl Southwest Doubles Open, with a projected $7,000 winner's check, Houston, Texas, Dec. 17-19.
PBA GRAND CASINO HOTEL & RESORT SOUTHWEST INVITATIONAL
FireLake Bowling Center, Shawnee, Oklahoma, Sunday
Championship:
Anthony Lavery-Spahr, Pasadena, Texas. ($4,000) def. Stuart Williams, Pflugerville, Texas, ($2,400), 244-233.
Semifinal Round (losers earned $1,500):
Williams def. Brad Miller, 268-246.
Lavery-Spahr def. A.J. Chapman, Lewisville, Texas, 215-202.
Round of 8 (best of three games, losers earned $1,000 each):
Williams def. Francois Lavoie, Canada, 2-1.
Lavery-Spahr def. Dino Castillo, Highland Village, Texas, 2-1.
Miller def. Dee Ronn Booker, Albuquerque, NM, 2-0.
Chapman def. Dimitri Cruz, Denton, Texas, 2-1.
Round of 16 (best of three games, losers earned $650):
Miller def. Nathan Bohr, Austin, Texas, 3-1.
Castillo def. Shawn Maldonado, Houston, Texas, 3-0.
Lavoie def. James Cantere, Oklahoma City, 3-0.
Cruz def. Scott McCleery, Lubbock, Texas, 3-2.
Booker def. Trey Ford, Bartlesville, Okla., 3-1.
Lavery-Spahr def. Tony Lanning, Yukon, Okla., 3-1.
Chapman def. Chris Barnes, Denton, Texas, 3-0.
Williams def. Deo Benard, Henderson, Nev., 3-0.