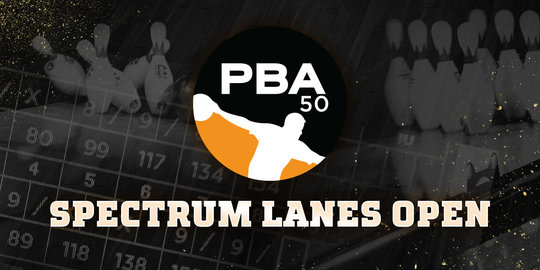 Rookie Knowlton leads after day one of qualifying at PBA50 Spectrum Lanes Open
August 3, 2021
Jill Winters
Wyoming, Michigan – PBA50 Rookie Dan Knowlton has quickly made a name for himself with three top 10 finishes so far this season. Now, he looks to pick up his first PBA50 Tour title after leading the first day of qualifying at the PBA50 Spectrum Lanes Open.
The 50-year-old rolled 1,898 for a 237.25 average. He holds a 25-pin lead over this tournament's defending champion from 2019 Eugene McCune.
"It's been awesome," Kwolton said about his debut season. "I didn't expect to have this much success for sure. I haven't bowled a whole lot the last 25 years competitively, so it is a pleasant surprise."
The Dade City, Florida resident used a Hammer Obsession Tour early and then about halfway through the eight-game block he switched to his symmetric, Brunswick Knock Out because he felt like he needed more down-lane recovery.
"I pretty much had everything in front of me all day and I didn't get too far away from the pocket," he said about his approach. "It was about execution"
Knowlton has gotten off to a strong start on tour. He finished 6th at the Johnny Petraglia BVL Open, 5th at the Bud Moore Classic and 2nd at the Odessa Open.
Pete Weber was the leader for the b squad at 1,857 sitting in 3rd place overall. Bob Learn Jr. sits in 4th and Parker Bohn III rounds out the top five.
Qualifying rounds continue with eight games Tuesday starting with the B squad at 9 a.m. Eastern. After the A squad finishes, the top 32 will advance to match play on Wednesday.
All pins will carry over into two rounds of match play consisting of two-sets of six games.
The top five bowlers will advance to the stepladder finals, where all pins will be dropped. The finals will begin at 7 p.m. EST Wednesday. You can watch every game live exclusively on FloBowling.
Follow PBA50 Spectrum Open scoring at PBA50 Spectrum Lanes Open | PBA
Top 10 PBA50 SPECTRUM OPEN
1. Dan Knowlton 1,898
2. Eugene McCune 1,873
3. Pete Weber 1,857
4. Bob Learn Jr. 1,851
5. Parker Bohn III 1,846
6. Tom Hess 1,831
7. Rolando Sebelen 1,824
8. John Burkett 1,804
9. Michael Calvin 1,784
10. John Shreve Jr. 1,781