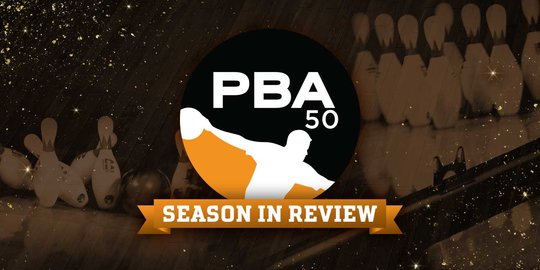 PBA50 Tour Heads West to Close Out 2021 Season
August 30, 2021
Johnny Campos
Brentwood, Calif. – The 2021 PBA50 Tour season travels west for the final three stops of the year, starting with the PBA50 Senior U.S. Open at Harvest Park Bowl, Labor Day weekend.
The event will begin on Saturday and concludes with the stepladder finals on Tuesday, Sept. 7 at 7:30 p.m. ET / 4:30 p.m. PT. That tournament will be followed by two stops at Sam's Town Bowling Center in Las Vegas – the PBA60 Super Senior Classic Sept. 9-13 and the USBC Senior Masters Sept. 13-19.
The 2020 PBA50 Tour was canceled last year because of the COVID-19 pandemic, so the defending champions are from the 2019 season.
Tore Torgersen of Norway won the 2019 PBA50 Senior U.S. Open by beating PBA Hall of Famer Mika Koivuniemi of Finland in the title match. Torgersen won it as a non-member, so it did not count as an official PBA50 title. Torgersen is not on the roster to compete and defend his title.
Ty Dawson of Sunnyvale, Calif., won the PBA60 Super Senior Classic in 2019, and PBA Hall of Famer Amleto Monacelli of Venezuela claimed the 2019 USBC Senior Masters title.
Monacelli won 20 titles on the PBA National Tour and has won 10 PBA50 titles, including the USBC Senior Masters twice. The two-time PBA Player of the year just turned 60 and will be eligible for all three upcoming tournaments.
"I'm ready to defend the Senior Masters title," he said. "It's such a prestigious and tough tournament, because it doesn't matter who averages the most. You need to bowl good and win many matches to make it to the show."
Monacelli attributes mental preparation for the win noting, "that last win was unbelievable. I was very surprised at my mental toughness during the whole tournament, and I think that was the key."
Monacelli is also ready to bowl in his first PBA60 event at Sam's Town.
"I have been bowling very well, so of course I have some confidence going into that tournament," he said. "I have a lot of respect for those guys, but I need to bowl good and do the right things, just like I normally try to do."
His main competition could be PBA Hall of Famers Ron Mohr and Walter Ray Williams Jr. Mohr has won the past four PBA60 Player of the Year honors and is coming off a win in this year's PBA60 Dick Weber Classic. Williams, the leader in PBA50 titles with 15, ranks 10th in points despite fighting through various health issues this season.
Another PBA Hall of Fame bowler, Pete Weber, enters the final PBA50 swing as the leader in points, earnings and average. But he holds only a precarious 2,680-point lead over PBA50 "youngster" Brad Angelo, while hoping to win his third PBA50 Player of the Year award. Weber won the honor in 2015 and 2016.
Weber won back-to-back PBA50 titles earlier this year and has posted four other top-10 finishes – all since retiring from the PBA National Tour in March.
"I don't know if retiring has had anything to do with my success this year, but I'm a lot more relaxed on the lanes now," Weber said. "The ball's coming off my hand pretty good and I have a lot of confidence. The shorter patterns get me a little, but I'm feeling strong again."
The final two PBA50 events are both majors, so points will be worth 1.5 times those of a standard event. That could be a boost for some of the bowlers, such as Angelo, Chris Barnes and Monacelli who are chasing Weber for the PBA50 points lead and the PBA50 Player of the Year honors.
But Weber, who has won both of those tournaments twice, is only focused on his performance.
"I'm not even thinking about those guys," said Weber, who recently turned 59. "If they step up and beat me, then great for them. I gotta do what I gotta do."
"I have always liked the majors because it's not just throw the ball anywhere and strike. You've got to make shots, keep the ball in the play area and be able to make your spares. With the two majors coming up now, I've had pretty good success in both of those. I'm feeling pretty confident going into it."
All of the PBA50 Senior U.S. Open rounds will be streamed live on FloBowling, while BowlTV.com will stream the PBA60 Super Senior Classic and the USBC Senior Masters competition.