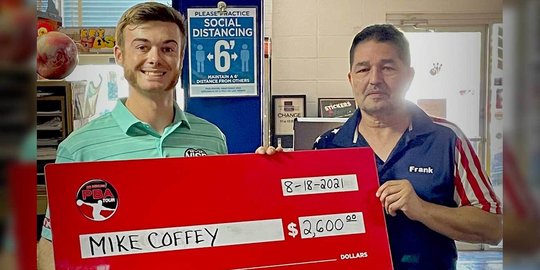 Mike Coffey Wins PBA Century Lanes Clean Air Solutions Hampton Open
August 18, 2021
Regional Director
HAMPTON, VA. – Mike Coffey of Melbourne, Fla. won his third PBA Regional title at the PBA Clean Air Solutions Hampton Open at Century Lanes on Wednesday, defeating A.J. Chapman of Manchester Iowa, 244-237 in the final match.
Coffey started the title match with five consecutive strikes, while Chapman started with strike – spare – triple. The match was close until Coffey doubled in the eighth and ninth to lock out Chapman. Coffey won $2,600 for first place and Chapman received $1,400 as the runner-up.
In the semifinal round, Coffey defeated Packy Hanrahan of Wichita, Ks., 245-234, while Chapman disposed of Cristian Azcona of Clermont, Fla., 227-214.
This event was an unusual midweek regional set up to accommodate the touring pros that just completed the PBA Bowlerstore.com Classic presented by Moxy's Xtra Pair in Coldwater, Ohio.
The PBA South Region's next tournament will be the PBA50 Cantwell Law Offices Rogersville Open August 27-29, 2021 in Rogersville, Tenn.
PBA CLEAN AIR SOLUTIONS HAMPTON OPEN
Century Lanes, Hampton, Va., Wednesday
Championship:
Mike Coffey, Melbourne, Fla. ($2,600) def. A.J. Chapman, Manchester, Iowa. ($1,400), 244-237.
Semifinal Round (losers earned $1100):
Coffey def. Packy Hanrahan, Wichita, Ks., 245-234.
Chapman def. Cristian Azcona, Clermont, Fla., 227-214.
Round of 8 (best of three games, losers eliminated and earned $900 each):
Coffey def. Shawn Maldonado, Houston, Tx., 596-542.
Chapman def. Nate Garcia, Port St. Lucie, Fla., 745-679.
Hanrahan def. Sam Cooley, Australia, 733-609.
Azcona def. Brian Robinson, Morgantown, W.Va., 566-530.
Round of 12 (total pinfall three games, losers eliminated and earned $700 each):
Hanrahan def. Zachary Tackett, Virginia Beach, Va., 678-638.
Coffey def. Chris Bolosan, Newport News, Va., 642-568.
Robinson def. Kip Roberts, Glen Allen, Va., 670-629.
Chapman def. Ryan Carlisi, Trenton, N.J., 655-537.
Round of 16 (total pinfall three games, losers eliminated and earned $625 each):
Hanrahan def. Richard Teece, England, 662-634.
Bolosan def. Jakob Butturff, Tempe, Az., 634-586.
Robinson def. Bryan Hahlen, Greenwood, S.C., 665-586.
Chapman def. Anthony Lavery - Spahr, Pasadena, Tx., 737-662.