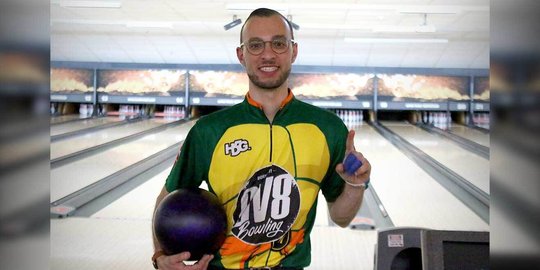 Matthew Russo Wins PBA Jonesboro Open for First Career PBA Tour Title
August 8, 2021
Jef Goodger
Defeats No. 1 seed Mykel Holliman in championship match
Jonesboro, Ark.—Twenty-four-year-old Matthew Russo became the newest PBA Tour champion when he defeated Mykel Holliman, 225-197, in the championship match to win the PBA Jonesboro Open at Hijinx Family Entertainment Center. Russo qualified in the second position for the stepladder finals and eliminated seven-time PBA Tour champion Jakob Butturff in the semifinal match before besting Holliman.
When Russo, who would finish the title match first, came up in the ninth and 10th frames, Holliman's maximum possible score was 210. Russo spared in the ninth and struck on his first shot in the 10th, meaning he'd need count to clinch the victory. Russo struck two more times, emphatically posting a 225 for his first PBA Tour title.
Holliman, the 2019 PBA Tour Rookie of the Year, was in third place after first-round qualifying, second after cashers qualifying and then won all eight of his matches to earn the top seed for the stepladder. His final match win, during position round, was against Russo to clinch the top seed.
That match was Russo's only loss in match play, who lurked near the middle of the pack, albeit well inside the cut, during qualifying before winning his first seven matches to claim the second seed.
Russo's first opponent on the stepladder, Butturff, eliminated 16-year-old Eric Jones in the opening match of the stepladder finals.
Although he missed the cut to cashers qualifying, EJ Tackett earned enough points with his 52nd-place finish to retain the lead in the PBA Summer Tour points race with two events left to play. After finishing 13th in Jonesboro, Anthony Simonsen is now just 30 points back of Tackett. The 10 best players on the PBA Summer Tour will receive a portion of the $40,000 bonus prize fund, with the top performer earning $20,000.
The PBA Summer Tour resumes Saturday with qualifying for the PBA Bowlerstore.com Open Presented by Moxy's Xtra Pair in Coldwater, Ohio.
PBA Jonesboro Open Final Standings
Hijinx Family Entertainment Center – Jonesboro, Ark.
Matthew Russo
Mykel Holliman
Jakob Butturff
Eric Jones
Match Scores
Match 1 – No. 3 Butturff def. No. 4 Jones, 216-178
Match 2 – No. 2 Russo def. No. 3 Butturff, 234-207
Match 3 – No. 2 Russo def. No. 1 Holliman, 225-197
View the full PBA Jonesboro Open standings.
About the PBA
The Professional Bowlers Association (PBA) is the world's preeminent organization dedicated to the sport of bowling and its professional competition, with thousands of members and millions of fans throughout the world. The PBA plays host to bowling's biggest tournaments from the PBA Tour, PBA Regional Tour, and PBA50 Tour. In 2020, the PBA launched PBA Jr., a club for elite youth bowlers under the age of 17 and the PBA Pinsiders, a membership for fans of the sport. For more information, please visit PBA.com.