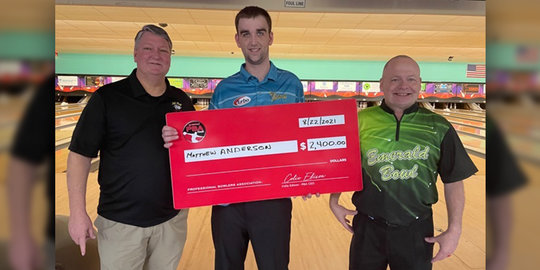 Matthew Anderson Wins Houston Emerald Bowl Southwest Challenge
August 24, 2021
Regional Director
Houston, Texas – Matthew Anderson, from Las Vegas, won his first PBA Regional event in the PBA Houston Emerald Bowl Southwest Challenge on Sunday; an event open to PBA members who do not have a PBA title or non-members who haven't won a PBA event.
Anderson was on his way to victory by averaging 237 in the first seven games of the modified eight game round robin finals to overtake Sean Sadat of Houston. Anderson held onto the lead in the final game, defeating Sadat, 268-178, to claim the $2,400 first-place prize.
Sadat who led the event from game two through game 19, finished second and collected $1,800. Tyler Wright, from Prairieville, Lou., finished third, winning $1,500, while Gabriel Alvarez, of Wichita, Kan., cashed for $1,250 for fourth place.
The PBA Southwest Region moves to Ayres Lanes in Liberal, Kan. for the PBA Liberal Southwest Open, September 17-19. The event will offer a $4,000 first place prize.
PBA HOUSTON EMERALD BOWL SOUTHWEST CHALLENGE, presented by Bowling Dynamix
Emerald Bowl, Houston, Texas, Sunday
Final Standings (after 21 games, including match play bonus pins):
N- Matthew Anderson Las Vegas 7-1 5085 $2,400
N- Sean Sadat Houston, Texas 4-4 4943 $1,800
N-Tyler Wright Gonzales, Lou. 6-2 4887 $1,500
N- Gabriel Alvarez Wichita, Ks 6-2 4823 $1,250
N- Seth Rutledge Richardson, TX 6-2 4752 $1,050
N- Daniel Inocencio College Station, Texas 6-2 4735 $950
N- Connor Egan East Northport, NY 4-4 4733 $850
Gabriel Yanes Corpus Christi, Texas 4-4 4613 $800
N- John McGee Houston, Tx 4-4 4598 $775
N-Nick Nguyen Port Neches, TX 4-4 4566 $750
N-Ryan Barnes Double Oak, Texas 2-7 4566 $725
N- Joshua Sorola Baytown 3-5 4542 $700
N- Chasten Pojas Wahiawa, Hi 3-5 4531 $675
N- David Hayes Terre Haute, IN 3-5 4520 $650
N-Ryan Nguyen Port Arthur, TX 1-7 4447 $625
N- Scott Teel Azle, TX 1-7 4404 $600
N-denotes non-PBA member.