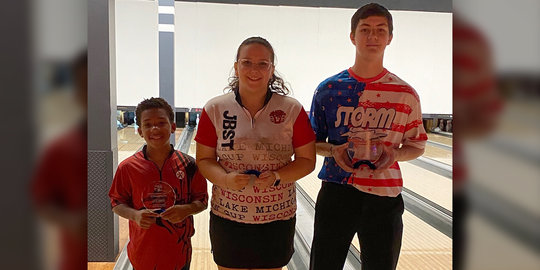 Jos Weems, McKenzie Mattice and Easton Curtis win PBA Jr. Midwest Regional at Bowlero Lakeville
August 1, 2021
Regional Director
Lakeville, Minn. – The PBA Jr. Midwest Regional at Bowlero Lakeville was filled with outstanding youth bowlers and unparalleled sportsmanship. The tournament featured three divisions – U15 Mixed, U18 Girls, and U18 Boys. Each division featured six games of qualifying and eight games of round robin match play, followed by a top-four stepladder final to determine the three winners.
U15 Mixed: Jos Weems of Chicago, Ill. captured the U15 Mixed Division defeating Luke Switalski of Oak Forest, Ill. in a match that came down to the final frame. All Weems had to do was stay clean, and he did so winning 211-202. Switalski finished second, but had a sizeable 234-pin lead with a 7-1-0 match play record. Weems earned 200 SMART points for first-place and Switalski earned 60 SMART points for second. Blaine Canfield of Wellington, Colo. took third place, earning 25 SMART points and Jett Cosby of Chanute, Kan. rounded out the top four, moving up in match play from seventh to make the stepladder finals, earning 19 SMART points.
U18 Girls: All eyes were on McKenzie Mattice, Racine, Wis., who captured the win in the U18 Girls Division. Mattice strung seven strikes together in the final match defeating Kayla Starr, Crofton, Md., 249-216. Mattice earned 200 SMART points for first-place and Starr earned 80 SMART points for second. Payton Rowley of Stewartville, Minn. took first place, winning 40 SMART Poitns and Hailey Triske of Minnetonka, Minn. rounded out the top four, winning 18.4 SMART points.
U18 Boys: Any doubt about the future of bowling was erased in the U18 Boys Division as these young athletes showed they are ready to carry the torch for the next generation of professional bowling. The championship match was full of suspense as a missed single pin spare in the tenth by Easton Curtis Stillwater, Minn. opened the door for James Bennett of Huntingtown, Md. to fill the final frame with three strikes to tie and force a roll off. Bennett struck soundly in the tenth, but came up a touch high in the eleventh, leaving a four pin and costing him the win. Curtis won 227-217, earning 200 SMART points for first-place and Bennet collected 100 SMART points for second. Caden Cook of St Joseph, Mo. finished in third earning 75 SMART points, and Dawson Peterson of Stewartville, Minn finished in fourth, earning 50 SMART points.
The next PBA Jr. Midwest event is the PBA Jr. Bowlero Chesterfield Regional in Chesterfield, Mo. September 25-26, 2021.
PBA Jr. Bowlero Lakeville Midwest Regional Tournament
Bowlero Lakeville, Lakeville, MN
U15 Mixed Final Standings (cashers):
Jos Weems, Chicago, Ill., 211.75 average, 200 SMART points
Luke Switalski, Oak Forest, Ill., 223.60 average, 60 SMART points
Blaine Canfield, Wellington, Colo., 198.19 average, 25 SMART points
Jett Cosby, Chanute, Kan., 183.93 average, 19 SMART points
U15 Mixed Stepladder Results:
Match One – Canfield defeated Cosby, 235 to 180
Semi-final Match – Weems defeated Canfield, 199 to 187
Championship Match – Weems defeated Switalski, 211 to 202
U15 Mixed Final Match Play Standings (match play record and total pins after all games, including match play bonus pins)
Weems, 7-3-0, 3,538
Switalski, 7-2-0, 3,564
Canfield, 7-3-0, 3,351
Cosby, 5-4-0, 2,909
Eason Taylor, Chicago, Ill., 3-5-0, 2,591
Kasey Hughes, Hatley, Wis., 4-4-0, 2,519
Keatin Graves, Hermantown, Minn., 2-6-0, 2,379
Paxton Bauer, LaMoille, Ill., 0-8-0, 2,303
U18 Girls Final Standings (cashers):
McKenzie Mattice, Racine, Wis., 215.13 average, 200 SMART points
Kayla Starr, Crofton, Md., 211.06 average, 80 SMART points
Payton Rowley, Stewartville, Minn., 198.13 average, 40 SMART points
Hailey Triske, Minnetonka, Minn., 194.13 average, 18.4 SMART points
U18 Girls Stepladder Results:
Match One – Rowley defeated Triske, 219-185
Semi-final Match – Starr defeated Rowley, 170-154
Championship Match – Mattice defeated Starr 249-216
U18 Girls Final Match Play Standings (match play record and total pins after all games, including match play bonus pins)
Mattice, 7-2-0, 3,407
Starr, 6-3-1, 3,542
Rowley, 5-5-0, 3,290
Triske, 4-4-1, 3,047
Isabella Weber, 4-4-0, 2,856
Keira Magsam, Gretna, Neb. 3-5-0, 2,826
Tallie Triske, Raymore, Mo., 3-5-0, 2,816
Rachel Moore, Keokuk, Iowa, 2-6-0, 2,795
U18 Boys Final Standings (cashers):
Easton Curtis, Stillwater, Minn., 224.81, 200 SMART points.
James Bennett, Huntingtown, Md., 233.40, 100 SMART points.
n-Caden Cook, St Joseph, Mo., 220.00 average, 75 SMART points.
Dawson Peterson, Stewartville, Minn., 221.60 average, 50 SMART points
Lucas Hersrud, Glyndon, Minn., 215.71 average, 40 SMART points
Evan White, Missouri Valley, Iowa, 216.57 average, 33.4 SMART points
U18 Boys Stepladder Results:
Match One – n-Cook defeated Peterson, 215 to 202
Semi-final Match – Curtis defeated n-Cook, 222 to 190
Championship Match – Curtis defeated Bennett, 227 to 217
U18 Boys Final Match Play Standings (match play record and total pins after all games, including match play bonus pins)
Curtis, 7-3-0, 3,747
Bennett, 7-2-0, 3,711
n-Cook, 5-5-0, 3,640
Peterson, 4-5-0, 3,444
Hersrud, 4-4-0, 3,140
White, 3-5-0, 3,122
Calaeb Sapa, Grand Forks, N.D., 3-5-0, 2,997
Connor Mooney, South Beloit, Ill., 2-6-0, 2,940
n-designates non-PBA membe