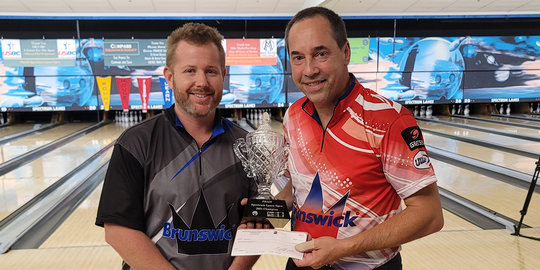 Bohn III Seals the Deal at PBA50 Spectrum Lanes Open
August 4, 2021
Jill Winters
Wyoming, Michigan - A moment that all bowlers practice and prepare for played out during the championship match on Wednesday at the PBA50 Spectrum Lanes Open. Parker Bohn III had the opportunity to strike out to defeat top seed, Bob Learn Jr. to win a title.
"I was able to step up in the 10th frame and throw all three shots that were more imperative than any of the other ones," the 58-year-old said. "The other ones position you to give you an opportunity, but in the 10th frame is where you have the chance to seal the deal."
Bohn became the only player to defeat Learn on the day, winning 214-192. Learn had gone 12-0 during match play to earn the top seed.
Prior to the 10th frame, Learn held a 10-pin lead in the 8th frame but then he left the dreaded 2-8-10 split to give Bohn the chance to put the match away.
"I was not figuring he was going to have the unfortunate circumstances there in the ninth,' Bohn said. "As a player you are sitting there on the bench, not rooting against your opponent, you just want to have an opportunity to win. At that point in time that was my opportunity to stand tall and fortunately it went my way."
After the win, Bohn shared an embrace with his mother-in-law who showed him on her phone that a room full of family members were watching and celebrating his win together back home. Bohn, who lost his mother in March, dedicates his win to her and hopes his victory will help propel his children to want to win this weekend in a bowling tournament as well.
To get to the championship match, no. 2 Bohn defeated no. 4 Tom Hess 244-193. The lefty had the first seven-in-a-row before a stone 9-pin caused him to drop down on the lanes in shock. Once the ball left his hand, he thought it was perfect, yet that 9-pin ended his string.
"I have let a couple wins slip through the cracks over the last couple of years but being victorious now just eliminates everything in the past," he said.
In the first stepladder match, Hess beat John Shreve Jr. 277-201 then he defeated Eugene McCune, 224-178, in the second match.
2021 PBA50 SPECTRUM LANES OPEN FINAL STANDINGS:
Parker Bohn III $7,500
Bob Learn Jr. $4,000
Tom Hess $2,500
Eugene McCune $2,000
John Shreve Jr. $1,800
View the full 2021 PBA50 Spectrum Lanes Open standings PBA50 Spectrum Lanes Open | PBA
Match Scores
Match 1 – Hess def. Shreve Jr. 277-201
Match 2 - Hess def. McCune 224-178
Match 3 – Bohn def. Hess 244-193
Championship match – Bohn def. Learn Jr. 214-192