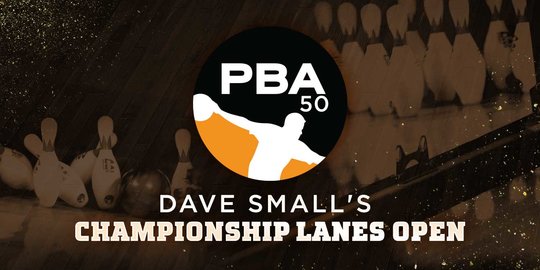 Adcock Dominates Qualifying Rounds at PBA50 Dave Small's Championship Lanes Open
August 9, 2021
Jill Winters
Anderson, Indiana – After finishing his first seven-games of qualifying on Sunday with a 300 game, Tom Adcock's high scores continued Monday at the PBA50 Dave Small's Championship Lanes Open.
The Decatur, Illinois resident averaged 250 in his second seven-game qualifying block shooting scores of 257, 236, 263, 245, 269, 233 and 247 to dominate the field. He holds a 248-pin lead over Amleto Monacelli.
A similar shape on the lanes from day-one to day-two allowed Adcock's swing to get looser and his confidence to soar. He used the Storm Tour IQ all day and "it came off the hand so good."
"My ball struck a lot," he said about his ball reaction. "The light hits, the slappers, the snap 10s. I tripped a couple 4s. My look was as good as it could be."
Since Sunday, Adcock was thinking about a conversation he had decades ago with former team challenge teammate, Del Ballard Jr. He asked the PBA Hall of Famer if he ever got nervous. Ballard's response was he only got nervous when the conditions were hard, and his ball wasn't seeing the lane right. So far, the two balls Adcock has used during qualifying have kept him confident, relaxed, and ready to compete for a PBA50 title.
Monacelli started his second qualifying block with a 740 series, before adding games of 200, 258, 201 and 194 for 3,129. He also relied on just one ball, an Obsession Tour.
"When I bowl really well, I am not thinking about scoring, I am focusing on execution and feeling the right things," he said about his game plan. "This is what I used to do in the '80s and '90s, so let's keep doing it. I felt really good."
Adcock, Monacelli and the rest of the top 32 will start with six-games of match play at 9 a.m. Eastern Tuesday followed by six more games. The top five will then advance to the stepladder finals scheduled to begin at 7 p.m. You can watch match play and the finals exclusively on FloBowling.com.
Follow PBA50 Dave Small's Championship Open scoring at PBA50 Dave Small's Championship Lanes Open | PBA
Top 10 PBA50 DAVE SMALL'S CHAMPIONSHIP OPEN
Tom Adcock 3,377
Amleto Monacelli 3,129
Lennie Boresch Jr. 3,101
Parker Bohn III 3,049
Walter Ray Williams Jr. 3,040
Dan Knowlton 3,027
Tom Hess 3,003
Edward Silva 3,001
Brad Angelo 2,996
Norm Duke 2,984