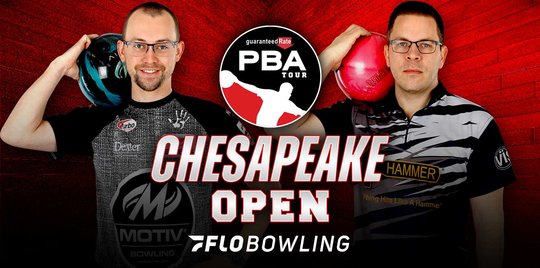 2021 PBA Summer Tour Concludes with PBA Chesapeake Open
August 17, 2021
Jef Goodger
Final PBA Summer Tour title to be decided this weekend
Chesapeake, Va.—The final event of the PBA Summer Tour as part of the Guaranteed Rate PBA Tour season takes place this weekend at AMF Western Branch Lanes. The PBA Chesapeake Open will award one more champion and determine the top 10 players receiving a share of the Summer Tour bonus prize fund. Qualifying begins Saturday at 9 a.m. ET and the tournament will culminate in the stepladder finals Sunday at 3 p.m. ET. Every round of competition will be streamed live on FloBowling.
Here are some of the top storylines heading into the 2021 PBA Chesapeake Open:
O'Neill Defends 2019 Title
Bill O'Neill only competed in one of the first four 2021 PBA Summer Tour events, finishing 23rd with Shannon O'Keefe in the PBA/PWBA Striking Against Breast Cancer Mixed Doubles, but O'Neill will compete in the final Summer Tour event to defend his title. O'Neill won the 2019 PBA Chesapeake Open as his second title of the season, which he followed with two more titles in 2020. O'Neill has yet to win in 2021.
Troup Still Chasing the Half-Million Mark
With his second-place finish in Coldwater, Troup now sits at $496,900 in 2021 Guaranteed Rate PBA Tour earnings, a single-season record. Troup is $3,100 short of becoming the first player ever to earn $500,000 in a single season and could get there by finishing second or better in Chesapeake.
Simonsen Looking for a Summer Tour Title
Anthony Simonsen finished third in the Bowlerstore.com Classic. It was the third time this summer he's finished third to go with a 13th-place performance in the PBA Jonesboro Open. Simonsen's consistency has him second in the PBA Summer Tour points race as the only player in the top five who has yet to win a title. A win for Simonsen in Chesapeake would guarantee him the overall Summer Tour top prize, but he may also be able to secure the bonus with another good finish.
Summer Tour Bonus Prize Fund to be Divvied Up
The PBA Chesapeake Open is the last chance for players to get a share of the $40,000 bonus prize fund for the PBA Summer Tour points leaders. The top 10 players will receive a share, with the No. 1 overall player receiving $20,000. Entering the event, Bowlerstore.com Classic champion Darren Tang is in the lead, 65 points ahead of Simonsen.
With 2,500 points going to the winner, 17 players are still in the running to claim the $20,000 bonus, although those near the bottom of that list would need a lot of players near the top to perform especially poorly. All players in the field are within reach of the top 10, as a win would get even a player with zero points inside.
PBA Summer Tour Points Leaders Through Four Events
Darren Tang, 4,080
Anthony Simonsen, 4,015
Shawn Maldonado, 3,667.5
EJ Tackett, 3,160
Matt Russo, 2,910
Jakob Butturff, 2,750
Kyle Troup, 2,427.5
Dom Barrett, 2,345
Jake Peters, 2,260
Sam Cooley, 2,075
Chris Via, 2,030
Tommy Jones, 1,982
Anthony Lavery-Spahr, 1,947.5
François Lavoie, 1,870
Nick Pate, 1,740
Jason Sterner, 1,730
Richie Teece, 1,660
PBA Chesapeake Open Live Streaming Schedule
AMF Western Branch Lanes – Chesapeake, Virginia
Saturday, August 21
9 a.m. ET – Qualifying (A Squad)
3 p.m. ET – Qualifying (B Squad)
Sunday, August 22
9 a.m. ET – Cashers Qualifying (four games)
11:30 a.m. ET – Top 16 (three games)
1:30 p.m. ET – Top 8 (two games)
3 p.m. ET – Stepladder Finals
All rounds will be streamed live on FloBowling. To subscribe, visit FloBowling.com.
PBA Chesapeake Open Winners Since 2019
2019 – Bill O'Neill
2020 – not held
About the PBA
The Professional Bowlers Association (PBA) is the world's preeminent organization dedicated to the sport of bowling and its professional competition, with thousands of members and millions of fans throughout the world. The PBA plays host to bowling's biggest tournaments from the PBA Tour, PBA Regional Tour, and PBA50 Tour. In 2020, the PBA launched PBA Jr., a club for elite youth bowlers under the age of 17 and the PBA Pinsiders, a membership for fans of the sport. For more information, please visit PBA.com.