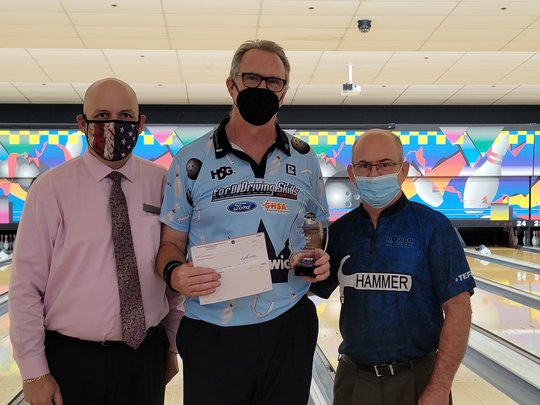 Walter Ray Williams Jr. Breaks Record with 15th PBA50 Tour Title
April 13, 2021
Jef Goodger
Wins PBA50 Lightning Strikes Open to become sole leader in PBA50 titles
Fort Myers, Fla.—Walter Ray Williams Jr., the all-time record holder with 47 PBA Tour titles, now also owns the record for career PBA50 titles after defeating Michael Haugen Jr. to win the 2021 PBA50 Lightning Strikes Open at Lightning Strikes Bowl.
In 2019, Williams won three consecutive PBA50 events to tie John Handegard's record of 14 PBA50 titles. In the first event of the 2021 season (the 2020 season was canceled due to the COVID-19 pandemic), Williams made the record his own, winning his 15th PBA50 title.
Williams, who qualified for three-game-total-pinfall match play as the seventh seed, knocked out Paul Koehler and fellow PBA Hall of Famer Pete Weber to advance to the finals against Haugen. Williams led by 44 pins after the first game, then fought off a charge from Haugen in the second game to secure a 708-655 victory after three games.
Finishing tied for third were Stoney Baker, who fell to Williams in the semifinals, and John Marsala, who lost to Haugen.
The PBA50 Tour season resumes next week with the PBA50 Johnny Petraglia BVL Open from Maple Lanes Countryside in Clearwater, Fla. Qualifying begins Monday, Apr. 19 and will be streamed live on FloBowling. To subscribe, visit FloBowling.com.
About the PBA
The Professional Bowlers Association (PBA) is the world's preeminent organization dedicated to the sport of bowling and its professional competition, with thousands of members and millions of fans throughout the world. The PBA plays host to bowling's biggest tournaments from the PBA Tour, PBA Regional Tour, and PBA50 Tour. In 2020, the PBA launched PBA Jr., a club for elite youth bowlers under the age of 17 and the PBA Pinsiders, a membership for fans of the sport. For more information, please visit PBA.com.
Kia PBA Playoffs: Semifinals