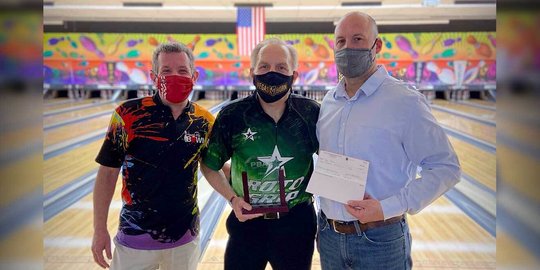 Ron Mohr Wins Second Consecutive PBA50 Regional Title in Brentwood
Brentwood, Ca.– Ron Mohr, from Las Vegas, took down David Leverage of Peoria, Ariz. to win the PBA50 Harvest Bowl Open in Brentwood, Calif.
For the second event in a row, Mohr and Leverage met in the final game of a PBA50 Regional event on a challenging Wayne Webb pattern that made for an exciting finish.
Without having bowled a single 200 game in either of the previous two elimination rounds, Mohr was fearful his ball reaction would not be good enough to outlast Leverage who had multiple games of 220 and higher in his previous matches, but he did.
With an early double followed closely by a turkey, Mohr took a demanding lead after eight frames and fired a 232, his highest of the day, to beat Leverage 232-173. Mohr took home the championship trophy and a $2,000 check for this 22nd PBA50 Regional Title.
In his second runner up finish in as many starts, Leverage took home $1,250.
In the semi-final matches, Mohr struck on his fill ball to lock up his victory over local favorite, Jim Horan. In the other match, Leverage threw the first strike in the 10th frame to shut out Warren Eales of Chandler, Ariz. who threw the last four strikes to apply serious pressure to Leverage.
After 10 games of qualifying, the field of 50 seniors was cut down to eight with a cut score of +42.
The PBA sends a special thanks to host Jim Wangeman and the staff Harvest Park Bowl and looks forward to expanding Regional events in California this year.
PBA50 Harvest Park Bowl Open
Harvest Park Bowl, Brentwood, Calif.
Championship:
Ron Mohr, Las Vegas, ($2,000) def. David Leverage, Peoria, Ariz., ($1,250) 232-173.
Semifinal Round (losers earned $950):
Ron Mohr def Jim Horan, Oakley, Calif 185-182.
David Leverage def Warren Eales 233-217.
Round of 8 (best of five games, losers eliminated and earned $700 each):
Ron Mohr def. N-Sam Carter, Ben Lomond. Calif., 3-2.
Jim Horan def. Dave Dayton, Reno, NV., 3-2
Warren Eales def. Bob Newman, Pacifica, Calif., 3-1
David Leverage def. Gerald Vertigan, Yorba Linda, Calif., 3-0
N-denotes non-PBA member
Guaranteed Rate PBA Super Slam

Kia PBA Playoffs: Round of 16

Kia PBA Playoffs: Round of 16