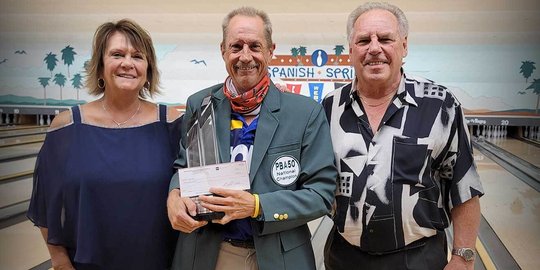 Pete Weber Wins Florida Blue Medicare PBA50 National Championship for Fifth Major and 12th career PBA50 Tour title
April 30, 2021
Jerry Schneider
The Villages, Fla. – Top seed Pete Weber beat No. 2 seed Lennie Boresch Jr. 255-234 in the title match to win the Florida Blue Medicare PBA50 National Championship presented by Spanish Springs Lanes for his fifth PBA50 major and 12th career title overall on the tour for players 50 and over.
It was also Weber's first PBA50 Tour title since winning the PBA50 DeHayes Insurance Group Championship in 2017.
Weber led qualifying and then posted a 15-1 record in Thursday's match play to earn the top spot for the finals.
"The last match play block was key because it added to may confidence," said the 57-year-old Weber. "I was worried about pin carry all day, but the key was I was able to play from the outside on the lane which gives you the best angle to the pocket."
Weber also bowled through a slight strain of his leg in the title match which turned out to work in his benefit.
"I was using my legs too much," said Weber. "Bowling with the strain forced me to stay more upright during my approach and that allowed me to have a more effective delivery where I wasn't driving the ball into the lane.
"Just being able to throw the ball well with a lot of confidence is a great feeling," he added. "When you're relaxed and bowling with a lot of confidence you can work through some of those problems."
In the second stepladder match, Boresch, who had won three of his four career PBA50 Tour titles at Spanish Springs Lanes including the 2018 PBA50 National Championship, defeated PBA50 Tour rookie No. 3 seed Tommy Hess 255-225 in the semifinal match to advance to the title match.
Hess, a PBA Tour veteran who won the 2011 USBC Masters, also posted a 15-1 record in match play. It was a dramatic surge to reach the finals after being as low as 17th in match play.
In the opening match Hess beat No. 5 seed Walter Ray Williams Jr. 211-199 to advance to the second match where he defeated No. 4 seed 2018 PBA50 Player of the Year Michael Haugen Jr. 257-215.
Williams was trying for his second win of the season after winning the PBA50 Lightning Strikes Open for his record 15th career PBA50 Tour title. Haugen's fourth-place finish was his third consecutive final appearance after finishing second in the first two tournaments of the season.
Norm Duke, who led the first two rounds and eventually finished sixth in qualifying, finished 20th after a disappointing 2-6 record in the first match play round failing to make the cut to the second round.
The next stop for the PBA50 Tour will be the PBA50 Granville Open at Sandhills Bowling Center in Aberdeen, North Carolina May 2-5.
Final standings
Pete Weber, $15,000
Lennie Boresch Jr., $7,500
Tommy Hess, $4,000
Michael Haugen Jr., $3,000
Walter Ray Williams Jr., $2,500
Stepladder Results
Match 1 – No. 4 Hess def. No. 5 Williams, 211-199
Match 2 – Hess def. No. 3 Haugen, 257-215
Semifinal match – No. 2 Boresch def. Hess, 255-225
Championship match – No. 1 Weber def. Boresch, 255-234