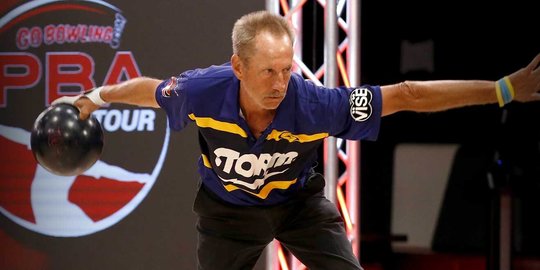 Pete Weber Leads After PBA50 Johnny Petraglia BVL Open First Round
April 20, 2021
Jerry Schneider
CLEARWATER, Fla. – Averaging 259 for seven games, which included a 300 and 299, Hall of Famer Pete Weber earned the first-round qualifying lead in the PBA50 Johnny Petraglia BVL Open presented by the Law Offices of Lucas & Magazine and Brunswick at Maple Lanes Countryside.
The 57-year-old Weber, who recently announced his retirement from Guaranteed Rate PBA Tour competition, bowled a 1,815 pinfall with games of 268, 246, 300, 199, 299, 245, and 258 to lead the 150-player field.
"I bowled well but couldn't throw a double," said Weber of the 199 game. "I left four ringing 10 pins but didn't get upset about it. I stayed relaxed and started striking again in the next game."
Weber, a 37-time titlist on the PBA Tour, is an 11-time winner on the tour for players 50 and over.
Rounding out the top five after the first round were John Donovan, 1,761; Parker Bohn III, 1,754; Jason Couch, 1,730, and Bob Caruso, 1,722.
The PBA's career titles leader on both the PBA50 Tour and the Guaranteed Rate PBA Tour, 61-year-old Hall of Famer Walter Ray Williams Jr., finished the first round in 13th with 1,672.
Williams, a 47-time PBA Tour titlist, won the season-opening PBA50 Lightning Strikes Open last week to become the PBA50 Tour's all-time titles leader with 15 titles.
The entire field returns for the second seven-game qualifying round Tuesday with the top 32 players after two rounds making the cut to match play Wednesday morning. Pinfall will be dropped for Wednesday's two six-game match play rounds. The top five after 12 games of match play will advance to the stepladder finals scheduled for 7 p.m. ET.
Kia PBA Playoffs: Semifinals