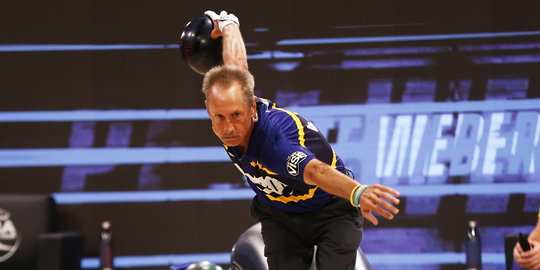 Pete Weber Leads 32 Players Advancing To Match Play For PBA50 Johnny Petraglia BVL Open
April 21, 2021
Jerry Schneider
CLEARWATER, Fla. – Hall of Famer Pete Weber will lead 32 players making the cut to match play after Tuesday's second-round qualifying in the PBA50 Johnny Petraglia BVL Open presented by the Law Offices of Lucas & Magazine and Brunswick at Maple Lanes Countryside.
The 57-year-old Weber retained his lead after the first round finishing with a 3,443 pinfall for 14 games (246 average). He bowled 1,628 in the second round with games of 279, 204, 226, 258, 200, 247 and 214 after bowling an 1,815 pinfall in Monday's first round.
"The pins won't carry over from qualifying so you lose that advantage, but I'm pretty confident about it heading into match play," said Weber, who owns 11 PBA50 Tour titles. "Carrying the 10 pin was a chore sometimes but I made the adjustments I needed to make. I was very pleased with the way I bowled overall."
Rounding out the top five after the second round were hall of famer Parker Bohn III, 3,422; John Marsala, 3,399; John Austin Jr., 3,389, and hall of famer Jason Couch, 3,380.
The PBA's career titles leader on both the PBA50 Tour and the Guaranteed Rate PBA Tour Hall of Famer Walter Ray Williams Jr., finished eighth and will try for his second consecutive win of the season after winning last week's PBA50 Lightning Strikes Open for his 15th career PBA50 Tour title.
Taking the 32nd and final spot to advance to match play was Kenneth Bland Jr. with 3,153.
The top 32 will bowl two six-game rounds of match play Wednesday with pins dropped from qualifying. The top five after 12 games of match play will advance to the stepladder finals scheduled for 7 p.m. ET that will be streamed live on FloBowling.com.
Tournament scores are available at pba.com.
Kia PBA Playoffs: Semifinals