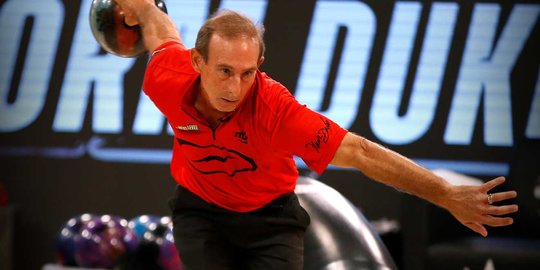 Norm Duke Averages 264 to Lead Florida Blue Medicare PBA50 National Championship First Round
April 27, 2021
Jerry Schneider
The Villages, Fla. - PBA Hall of Famer Norm Duke had everything go his way after first-round qualifying in the Florida Blue Medicare PBA50 National Championship presented by Spanish Springs Lanes but it wasn't without relying on his experience competing in major championships.
Posting a 1,584 six-game pinfall total (264 average) with games of 289, 247, 274, 268, 278 and 228 in the first round Monday, Duke led the 186-player field in the first PBA50 Tour major of the season.
"When you have to focus on making the best shot of your life, you're going to benefit from that no matter what the condition," said Duke, a five-time winner on the PBA50 Tour which includes two majors. "You still have to pay attention no matter what the (lane) condition is to put a huge number on the board.
"If you get into a rhythm, you have to be careful of getting too comfortable," Duke added. "You can go backward (in the standings) real fast."
While it was a good start for Duke, there's a long way to go. With no re-conditioning between qualifying blocks, the 186-player field will have to be prepared to play the 44-foot PBA Billy Hardwick lane condition differently over the three days of qualifying. Duke bowled on the second squad of the day Monday which bowls first Tuesday morning.
Duke holds an 80-pin lead over PBA50 Tour veteran and two-time Dick Weber Sportsmanship award winner Chris Keane in second who finished the round with a 1,504 pinfall.
2018 PBA50 Player of the Year Michael Haugen Jr. finished the first round in third with 1,458. Haugen has finished second in the first two tournaments this season.
Rounding out the top five were Keith Lesko in fourth with 1,455 and Walter Ray Williams Jr. and Brad Angelo tied for fifth with 1,436.
Williams, the all-time leader on the Guaranteed Rate PBA Tour win list became the all-time PBA50 Tour titles leader when he won the season-opening PBA50 Lightning Strikes Open for his 15th title.
After Tuesday's round, qualifying continues Wednesday before the field will be cut to the top 32 players for Thursday's first round of match play. The field will then be cut to the top 16 for the second match play round to determine the top five for the stepladder finals. Pinfall from all rounds carry over. The finals will air live on Flobowling.com Thursday beginning at 7 p.m. ET.
King of the Lanes: Empress Edition

King of the Lanes: Empress Edition

King of the Lanes