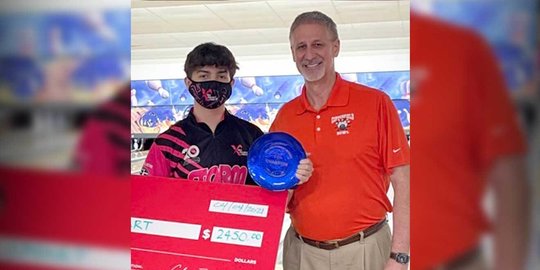 Julian Salinas Wins Houston Copperfield Bowl Southwest Challenge for First PBA Win
Houston, Texas – Eighteen-year-old Julian Salinas, from Richmond, Texas captured his first PBA Regional tournament victory at the PBA Houston Copperfield Bowl Southwest Challenge on Sunday.
Salinas, a non-member, secured the pin after pulling away from the field in the eight-game modified round robin finals. Salinas won $2,450 for first place, which was added to his SMART scholarship fund.
Throughout the competition, Salinas trailed only fellow eighteen-year-old, Cameron Hurwitz, from Rochester, New York, after the 13 games of qualifying, then averaged over 235 in the match play final.
Salinas won seven of the eight matches, to claim the victory by 318 pins ahead of second place finisher Ryan Nguyen, from Port Arthur, Texas.
Nguyen earned $1,850 for his finish, as Anthony Desko, from Parkville, Mo., collected $1,250 for third and Houstonian Johnny Quach received $1,000 for fourth place. The top seven finishers in the event were all 21 years old, or younger.
PBA Challenge Evens are open to PBA members without a title and non-members who have not won a PBA event.
Next on the PBA Southwest Region schedule will be the PBA Grand Casino/Hotel/Resort Southwest Super Open, April 30-May2 at FireLake Lanes in Shawnee, Okla. First place in Shawnee will pay at least $5,000.
PBA HOUSTON COPPERFIELD BOWL SOUTHWEST CHALLENGE
Copperfield Bowl, Houston, Texas, Sunday
Final Standings (after 21 games, including match play bonus pins):
N-Julian Michael Salinas Richmond, TX 7-1 210 4931 SMART
N-Ryan Nguyen Port Arthur, TX 5-3 150 4613 $1,850.00
N-Anthony Desko Parkville, MO 5-3 150 4612 $1,440.00
N-Johnny Quach Houston 7-1 210 4574 $1,250.00
N-Cameron Hurwitz Rochester, NY 4-4 120 4566 $1,100.00
N-Gabriel Alvarez Wichita, Ks 5-3 150 4561 $1,000.00
N-Kaden Rogillio Deer Park, Texas 5-3 150 4545 $900.00
Joseph Grondin San Pedro, Calif. 4-4 120 4521 $800.00
N,S Robert Browder LaPorte, Texas 4-4 120 4500 $775.00
Ryan Kiive-Logston Round Rock 3-5 90 4360 $750.00
N-Jacob Heger Spring, Texas 2-6 60 4355 $725.00
N-Zakary Edgerton Allen, Texas 3-5 90 4319 $700.00
(S) Steven Badovinac Parker, Colo. 2-6 60 4272 $675.00
Matthew Stephens Houston, Texas 1-7 30 4262 $650.00
N-Donzel Laney Austin, Texas 4-4 120 4222 $625.00
Randy Hawks Balch Springs, Texas 3-5 90 4099 $600.00
n-denotes non-PBA member.
Guaranteed Rate PBA Super Slam

Kia PBA Playoffs: Round of 16

Kia PBA Playoffs: Round of 16