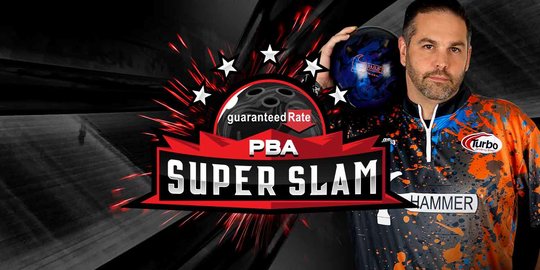 Guaranteed Rate PBA Super Slam Player Spotlight: Tom Daugherty
April 14, 2021
Jef Goodger
All five 2021 major champions to battle for $100,000 live on FOX April 18
Tom Daugherty's triumph in the Guaranteed Rate PBA World Championship Mar. 13 earned him a berth in the Guaranteed Rate PBA Super Slam this Sunday on FOX Broadcast Channel.
Daugherty qualified as the top seed for the PBA World Championship stepladder finals, then bowled a 263 game to defeat Jakob Butturff for the title and earn a $100,000 first-place prize.
The win was Daugherty's first career major and third title overall. Later that week at the World Series of Bowling, Daugherty won the Scorpion Championship for the second time in his career, putting four titles on his résumé entering the PBA Super Slam.
The Guaranteed Rate PBA Super Slam, a special event paying $100,000 to the winner, will feature all five major champions from the 2021 Guaranteed Rate PBA Tour season bowling a single game to determine seeding. The player with the lowest score will be eliminated and the four surviving players will be seeded into the semifinals.
Guaranteed Rate PBA Super Slam Competitors
Kyle Troup (PBA Players Championship)
François Lavoie (PBA Tournament of Champions)
Tom Daugherty (PBA World Championship)
Thomas Larsen (USBC Masters)
Chris Via (U.S. Open)
Guaranteed Rate PBA Super Slam Competition Format
Bowlero Annandale – Annandale, Va.
Live on FOX April 18 at 12:30 p.m. ET
Match 1: All five players bowl one game (lowest score eliminated)
Match 2: No. 1 seed vs. No. 4 seed
Match 3: No. 2 seed vs. No. 3 seed
Championship match: Winner of match 2 vs. Winner of match 3
About the PBA
The Professional Bowlers Association (PBA) is the world's preeminent organization dedicated to the sport of bowling and its professional competition, with thousands of members and millions of fans throughout the world. The PBA plays host to bowling's biggest tournaments from the PBA Tour, PBA Regional Tour, and PBA50 Tour. In 2020, the PBA launched PBA Jr., a club for elite youth bowlers under the age of 17 and the PBA Pinsiders, a membership for fans of the sport. For more information, please visit PBA.com.
King of the Lanes: Empress Edition

King of the Lanes: Empress Edition

King of the Lanes