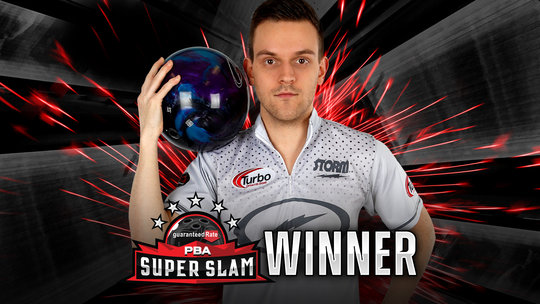 François Lavoie Wins Guaranteed Rate PBA Super Slam
April 18, 2021
Jef Goodger
Defeats Kyle Troup in the championship match to win $100,000
Annandale, Va.—François Lavoie bowled a 247 game in the championship match to win the Guaranteed Rate PBA Super Slam. Lavoie, who qualified for the Super Slam by winning the Kia PBA Tournament of Champions in February, defeated PBA Players Championship winner Kyle Troup to earn $100,000.
"This is the most comfortable I've ever been on the lanes," said Lavoie. "I feel like things are coming together after working hard in the offseason. I'm feeling more comfortable and confident."
Lavoie defeated Troup in the final match, 247-202.
"My two shots into and out of the commercial break were my first sigh of relief," said Lavoie, referring to his strikes in the fifth through eighth frames. "When (Troup) didn't strike on his next two shots, I knew all I had to do was stay clean."
Lavoie struck three more times after the eighth frame, locking up the victory.
The Guaranteed Rate PBA Super Slam, a non-title special event featuring all five major champions from the 2021 Guaranteed Rate PBA Tour season, aired live on FOX Broadcast Channel and featured Lavoie, Troup, Tom Daugherty (Guaranteed Rate PBA World Championship), Thomas Larsen (USBC Masters) and Chris Via (U.S. Open).
"We're all bowling really well," Lavoie said of his competition. "I knew this wasn't going to be easy by any means. Coming here, I was thinking this was just going to be a fun event and we're all going to have a good time. Once we started bowling, all of a sudden I'm in competition mode and I really want to win and need to do what I can do to get through."
The Super Slam began with all five players bowling a single game. Daugherty, who bowled 179 as the lowest score, was eliminated. The other four players were seeded into the semifinals based on their first-game scores. Lavoie was seeded fourth.
"When the first match started, all I wanted to do was make the top four," said Lavoie. "I started with a double, but three of the other guys started with a four-bagger, so I needed to figure something out pretty quickly. I was fortunate to get that fourth spot."
As the fourth seed, Lavoie drew No. 1 seed Via in the semifinals. Lavoie defeated Via, 212-209. Troup advanced to the final match with a 268-214 win over Larsen.
Lavoie, the fourth overall seed for the PBA Playoffs that begin Apr. 24 on Fox Sports' FS1, will face Dick Allen in the opening round.
"I'm excited," said Lavoie. "This tournament today was obviously a big boost in confidence going into the Playoffs, but I'm only as good as I'm bowling on one specific day. None of this will matter next week. I'm going to have to figure out the lanes all over again."
The PBA Playoffs begin airing Saturday, Apr. 24 at 11 a.m. ET on FS1.
Guaranteed Rate PBA Super Slam Final Standings
Bowlero Annandale – Annandale, Va.
François Lavoie, earns $100,000
Kyle Troup, $50,000
Chris Via, $20,000
Thomas Larsen, $20,000
Tom Daugherty, $10,000
Match Scores
Round-robin match – Via 251, Troup 242, Larsen 232, Lavoie 224, Daugherty 179 (Daugherty eliminated)
Semifinal match 1 – No. 4 Lavoie def. No. 1 Via, 212-209
Semifinal match 2 – No. 2 Troup def. No. 3 Larsen, 268-214
Championship match – No. 4 Lavoie def. No. 2 Troup, 247-202
About the PBA
The Professional Bowlers Association (PBA) is the world's preeminent organization dedicated to the sport of bowling and its professional competition, with thousands of members and millions of fans throughout the world. The PBA plays host to bowling's biggest tournaments from the PBA Tour, PBA Regional Tour, and PBA50 Tour. In 2020, the PBA launched PBA Jr., a club for elite youth bowlers under the age of 17 and the PBA Pinsiders, a membership for fans of the sport. For more information, please visit PBA.com.