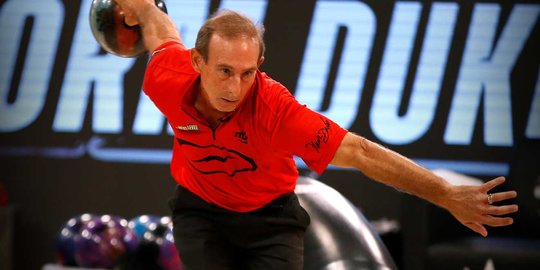 Duke Retains Lead in Florida Blue Medicare PBA50 National Championship Heading Into Final Qualifying Round
April 28, 2021
Jerry Schneider
The Villages, Fla. – Norm Duke found the going much tougher in the second round of the Florida Blue Medicare PBA50 National Championship presented by Spanish Springs Lanes Tuesday, but was able to retain his lead going into Wednesday's final qualifying round.
After bowling 1,584 for six games in Monday's first round, the Hall of Famer could only manage 1,300 in the second round bowling games of 246, 229, 185, 165, 209 and 266, to finish with a 2,884 pinfall (240.33 average) after two rounds.
"Today was one of those days," said Duke. "Yesterday I could do no wrong and today I felt like I was going uphill even with a good start.
"This early in the event, if you're not leading you want to be close," he added. "So even though I struggled today I had enough of a cushion to stay where I want to be."
Duke withstood a challenge from first-round runnerup Chris Keane and defending champion Walter Ray Williams Jr., who was tied for fifth after the first round. Keane and Williams both finished tied for second 17 pins behind Duke with 2,867.
Williams, the all-time leader on the Guaranteed Rate PBA Tour win list with 47 titles, became the all-time PBA50 Tour titles leader when he won the season-opening PBA50 Lightning Strikes Open for his 15th career title on the tour for players 50 and over.
2018 PBA50 National Championship winner Lennie Boresch Jr. was fourth after the second round with 2,838, and rounding out the top five was Rick Graham with 2,790.
After Wednesday's final qualifying round the field will be cut to the top 32 players for Thursday's first round of match play. The field will then be cut to the top 16 for the second match play round to determine the top five for the stepladder finals. Pinfall from all rounds will carryover. The finals will air Thursday live on Flobowling.com beginning at 7 p.m. ET.
King of the Lanes: Empress Edition

King of the Lanes: Empress Edition

King of the Lanes