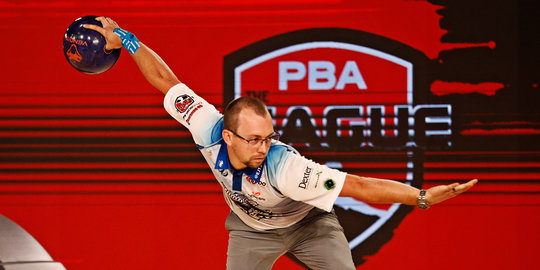 PBA League Anthony Division Seeding Round Results
After 12 games, Motown Muscle earned the top seed in the Anthony Division seeding round to begin the 2020 PBA League quest for the Elias Cup.
Results after 12 of 12 games, with the top two teams earning a bye in the bracket.
Motown Muscle – 3326
Portland Lumberjacks – 3247
L. A. X – 3084
Brew City Ballers – 2912
Miami Waves – 2886
NYC Kingpins – 2720
With the seeding round complete, the Anthony Division is set for live tv matches starting tomorrow at 12 p.m. ET on FS1.
Sunday, Noon ET:
Anthony Division quarterfinals
Match 1
No. 3 L.A. X
vs.
No. 6 NYC KingPins
Match 2
No. 4 Brew City Ballers
vs.
No. 5 Miami Waves
On Monday at 7 pm ET:
Anthony Division semifinals
Match 1
LAX/NYC Winner
vs
No. 2 Portland Lumberjacks
Match 2
Brew City/Miami winner
vs.
No. 1 Motown Muscle