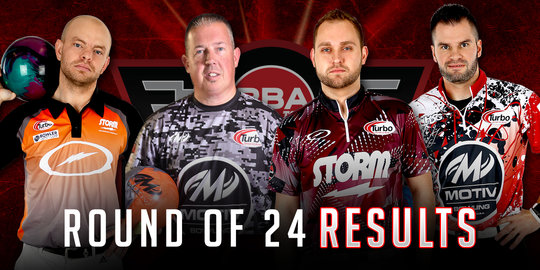 AJ Johnson, Nick Pate, Tom Smallwood, Brad Miller Fill Out PBA Playoffs Round of 16
Johnson and Smallwood cruise, Pate and Miller grind into next round
Centreville, Va. – AJ Johnson opened his 2020 PBA Playoffs by rolling the highest score on the right-bracket Round of 24 telecast, defeating Kyle Sherman, 223-166. Johnson took an early lead that only grew as the one-game match went on.
"You can never be up by too much," said Johnson. "There's a respect level and we're good friends, but I wanted to beat Sherman and never let up. I kept the pressure on and kept throwing great shots."
Johnson, who is seeking his first PBA Tour title, has spent a fair amount of time bowling on TV lately as his PBA League expansion team, Las Vegas High Rollers, advanced all the way to the Elias Cup Finals before finishing second to the Portland Lumberjacks in late September.
"I'm starting to feel a lot more comfortable on TV," said Johnson, who will face 2019 PBA Playoffs runner-up Bill O'Neill in the next round. "When the lights come on, it's game time. I'm starting to come into my own, finding what works and letting myself be me."
In another resounding Round of 24 victory, three-time PBA Tour champion Tom Smallwood began his match with the first three strikes and PBA Hall of Famer Chris Barnes couldn't keep up, falling by a score of 215-180.
"Barnes struggled a bit to start and I threw three pretty good shots for a three-bagger, so I had a 30- or 40-pin lead through the fifth frame," said Smallwood. "I wasn't trying to coast, but it kind of looked that way. I had a really bad shot for an eight count and then a couple nine counts. But if you wait around for a Hall of Famer, he's going to catch you."
Barnes was one of three PBA Hall of Famers, along with Tommy Jones and Norm Duke, to qualify for the 2020 PBA Playoffs. All three were eliminated in the opening round. Smallwood draws 13-time PBA Tour champion EJ Tackett in the Round of 16.
The key to Nick Pate's 207-202 victory over Darren Tang may have been the first frame, when Pate converted a 1-2-10 washout.
"If I get seven and two there," said Pate, who followed the conversion with two consecutive strikes, "it's a 279 max instead of 290. That's 11 pins. I expect to make that, and I did, and I was able to settle down and throw some good shots."
Tang started the game with the front three, but after opening in the fourth, neither player was able to put a double on the board. Pate came up in the 10th frame needing a mark and count to win.
"I threw one and thought I missed it inside, but it just laid there," said Pate of his strike in the 10th. "After that, I needed good count and got it. I didn't throw that many good shots, to be completely honest, but it was a clean game."
Pate advances to face Kyle Troup, who has already won three times on the 2020 PBA Tour.
The final match of the telecast was decided by eight well-placed strikes by Brad Miller—four in the front of the game and four in the back. In between, Tom Daugherty caught up and passed Miller, when he chopped a three-pin spare attempt in the eighth frame. After Daugherty failed to strike in the ninth, leaving and sparing a single pin, Miller had a chance to clinch the victory.
"When I went up in the ninth frame," said Miller, brushing aside the chopped spare in the eighth, "I told myself there's no way I'm leaving a 10-pin. I'm going to get after it, be as aggressive as I possibly can, as long as it doesn't leave a flat-10."
Miller struck in the ninth and on all three shots in the 10th to lock out Daugherty, 215-195, advancing to the Round of 16 against 10-time PBA Tour champion Jesper Svensson.
"A couple breaks went my way," conceded Miller. "I had a trip-four. When you stay aggressive and actually throw it with confidence, good things like that can happen. I feel very comfortable here with this whole setup and it's just kind of going my way."
Round of 16 competition airs Sunday, Nov. 1 at 7:30 p.m. ET on FS1. The PBA Playoffs concludes with the quarterfinals, semifinals and championship match on Nov. 8 beginning at 2 p.m. ET on FS1.
The final event of the 2020 PBA Tour season, the winner of the PBA Playoffs will receive a PBA Tour title, $100,000 and an official WWE championship title.
Viewers can live stream the PBA on the FOX Sports and FOX NOW apps or at FOXSports.com. Select highlights will be available on @FOXSports social handles across Twitter, Facebook, Instagram and YouTube. International fans can watch live on FloBowling.com.
PBA Playoffs Round of 24 Results (Saturday, October 10, 2020 on FOX)
Bowlero Centreville, Centreville, Virginia
No. 18 Jakob Butturff def. No. 16 Tommy Jones, 215-214
No. 9 Francois Lavoie def. No. 24 Norm Duke, 256-193
No. 20 Dick Allen def. No. 13 Dom Barrett, 227-190
No. 12 Marshall Kent def. No. 21 Chris Via, 218-212
Round of 16 Results (Saturday, October 17 on FOX)
No. 1 Jason Belmonte def. No. 17 Jakob Butturff, 205-195
No. 9 Francois Lavoie def. No. 8 Sean Rash, 300-236
No. 4 Anthony Simonsen def. No. 20 Dick Allen, 258-204
No. 5 Kris Prather def. No. 12 Marshall Kent, 237-214
Round of 24 Results (Sunday, October 25, 2020 on FS1)
No. 18 AJ Johnson def. No. 15 Kyle Sherman, 223-166
No. 23 Nick Pate def. No. 10 Darren Tang, 207-202
No. 14 Tom Smallwood def. No. 19 Chris Barnes, 215-180
No. 11 Brad Miller def. No. 22 Tom Daugherty, 215-195
Round of 16 (Sunday, November 1 at 7:30 p.m. ET on FS1)
No. 18 AJ Johnson vs. No. 2 Bill O'Neill
No. 23 Nick Pate vs. No. 7 Kyle Troup
No. 14 Tom Smallwood vs. No. 3 EJ Tackett
No. 11 Brad Miller vs. No. 6 Jesper Svensson
Quarterfinals (Sunday, November 8 at 2 p.m. ET on FS1)
No. 1 Jason Belmonte vs. No. 9 Francois Lavoie
No. 4 Anthony Simonsen vs. No. 5 Kris Prather
Additional two matches to be determined following the completion of the Round of 16
Semifinals and Finals (Sunday, November 8 at 4 p.m. ET on FS1)
Matches to be determined following the quarterfinals
About the PBA
The Professional Bowlers Association (PBA) is the world's preeminent organization dedicated to the sport of bowling and its professional competition, with thousands of members and millions of fans throughout the world. The PBA plays host to bowling's biggest tournaments from the Go Bowling! PBA Tour, PBA Regional Tour, and PBA50 Tour. In 2019, the PBA was acquired by Bowlero Corporation, the world's largest owner and operator of bowling entertainment centers with more than 300 locations throughout North America. For more information, please visit PBA.com.
There are No Events to Show at this time. Stay tuned for more events coming soon.