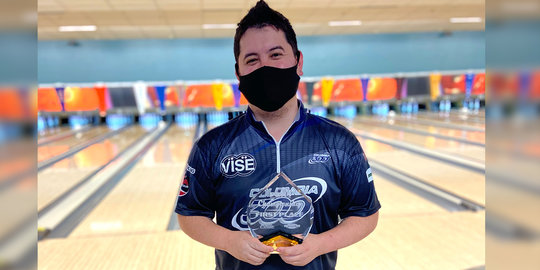 Jakob Butturff Strikes Gold at the PBA Jackson Rancheria Casino Resort Championship
November 9, 2020
ddziomba
Sutter Creek, Calif. – Jakob Butturff of Tempe, Ariz. led wire to wire to win the PBA West Region's Jackson Rancheria Casino Resort Championship at Gold Country Lanes on Sunday.
Butturff came into the event with a heavy heart after just losing his mother to cancer the previous Monday, but fought to win his 26th career PBA Regional title. The title is Butturff's latest in just five years, but one of his most memorable, which he dedicated to his late mother. Butturff earned $2,500 for the win.
Butturff held a demanding lead to secure first place, but there was no shortage of competition for second-place. There were five other bowlers jockeying for the spot through match play until the last game, when David Haynes of Las Vegas secured it with a big 289 in the position round to earn $1,300.
This weekend was the 16th time the PBA Western Region has visited Gold Country Lanes and was especially exciting for bowlers as they were able to compete in the state of California for the first-time in over 10 months.
PBA Jackson Rancheria Casino Resort Championship
Gold Country Lanes, Sutter Creek, Calif., Sunday
Final Match Play Standings (after 19 games, including match play bonus pins):
Jakob Butturff, Tempe, Ariz., 7-1, 4,926, $2,500.
David Haynes, Las Vegas, 5-3, 4,700, $1,300.
n-Joseph Grondin, San Pedro, Calif., 6-2, 4,624, $1,100.
Buddy Lucas, Montclair, Calif., 6-2, 4,604, $1,000.
Darren Tang, Las Vegas, 4-4, 4,574, $900.
PJ Haggerty, Roseville, Calif., 4-4, 4,523, $800.
Chad Uyehara, Clovis, Calif., 5-3, 4,482, $750.
n-Robert Harmon, Jackson, Calif., 2-6, 4,449, $725.
Joseph Petrovich, Tracy, Calif., 5-3, 4,408, $700.
Kyle Duster, Scottsdale, Ariz., 3-5, 4,398, $675.
Derek Gregory, Chowchilla, Calif., 2-6, 4,346, $650.
Robby Porter, Rancho Cordova, Calif., 4-4, 4,319, $625.
Missy Parkin, Laguna Hills, Calif., 3-5, 4,200, $600.
Mark Mazzulla, Brentwood, Calif., 4-4, 4,197, $575.
Wayne Garber, Modesto, Calif., 2-6, 4,145, $550.
Eddy Smith, Stanwood, Wash., 2-6, 4,065, $525.
n-denotes non-PBA member
300's:
There are No Events to Show at this time. Stay tuned for more events coming soon.