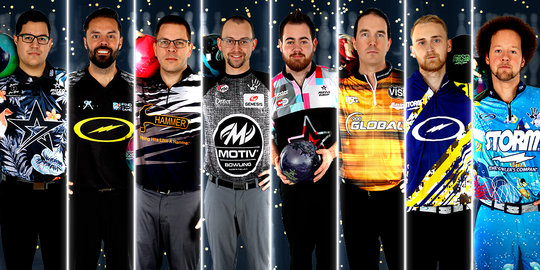 2020 PBA Tour Player Awards Finalist Nominees Selected
November 24, 2020
ddziomba
Chris Schenkel PBA Player of the Year, Steve Nagy Sportsmanship and Tony Reyes PBA Community Service Honors to be Announced on Dec. 18
New York, NY – In what was one of the most challenging and unprecedented years in the history of the PBA, the Tour's brightest stars showed up to compete on and off the lanes.
For 2020, these stars will be honored in three categories – Chris Schenkel PBA Player of the Year, Steve Nagy Sportsmanship Award, and the Tony Reyes Community Service Award.
Player of the Year honors will award the Tour's top player, the Nagy Sportsmanship Award will be given out to the player who has shown exemplary sportsmanship, and the Reyes Award will recognize a PBA member who has done extraordinary community service and/or charitable contributions in the calendar year.
There will be no Harry Golden Rookie of the Year for 2020 due to the complications created by the COVID-19 pandemic. Rookie players will be eligible for the award in 2021.
Player of the Year nominees consist of the top eight earners in the 2020 season. Candidates in alphabetical order: are, Australia's Jason Belmonte; Bill O'Neill of Langhorne, Pa.; Kris Prather of Plainfield, Ill.; Sean Rash of Montgomery, Ill.; Mo.; Anthony Simonsen of Little Elm, Texas, Sweden's Jesper Svensson, EJ Tackett of Bluffton, Ind., and Kyle Troup of Taylorsville, N.C.
The PBA Player of the Year will be selected by a panel of veteran bowling writers and the entire PBA membership. The Nagy Sportsmanship Award winner is selected by PBA Tour players who have bowled in at least half of the current season's tournaments. The Reyes Award recipient is selected by a special panel of PBA leaders.
The annual awards will be announced by PBA CEO Colie Edison and PBA Commissioner Tom Clark during a special presentation awards show on Dec. 18. More details to be announced at a later date.
Last year's winners of the PBA's four prestigious awards were Jason Belmonte, Player of the Year; Mykel Holliman, Rookie of the Year; Martin Larsen, Nagy Sportsmanship Award, and Chuck Gardner, Tony Reyes Community Service Award.
About the PBA
The Professional Bowlers Association (PBA) is the world's preeminent organization dedicated to the sport of bowling and its professional competition, with thousands of members and millions of fans throughout the world. The PBA plays host to bowling's biggest tournaments from the Go Bowling! PBA Tour, PBA Regional Tour, and PBA50 Tour. In 2019, the PBA was acquired by Bowlero Corporation, the world's largest owner and operator of bowling entertainment centers with more than 300 locations throughout North America. For more information, please visit PBA.com.
There are No Events to Show at this time. Stay tuned for more events coming soon.