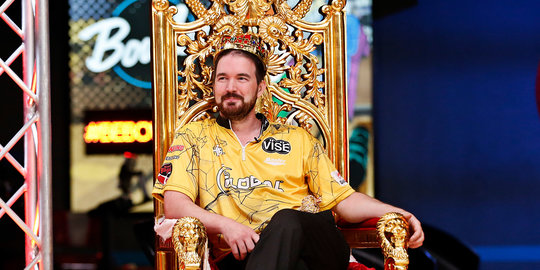 Sean Rash Takes the Crown from Norm Duke as the New PBA King of the Lanes on Night Two of the Series
Jupiter, Fla. – All hail the new PBA King of the Lanes – Sean Rash! On night two of the six-part series airing on FS1, Sean Rash knocked off reigning King Norm Duke and then bowled a nearly perfect game to retain the crown from contender Clara Guerrero.
15-time title winner and 2020 PBA Summer Clash Winner Sean Rash took full advantage of favorable lane conditions in all of his matches starting with a 256-227 win against 12-time title winner Bill O'Neill in the first Contenders Match. As the winner, Rash went on to bowl PBA Hall of Famer Norm Duke for the crown. Needing a double and four pins in the 10th , Rash struck out to defeat Duke, 262-255 to become the new King.
With a new King residing on the throne, two new contenders took to the lanes – seven-time title winner Jakob Butturff, who bowled a perfect 300 televised game on Saturday and the first female competitor, PWBA's Clara Guerrero. Guerrero consistently led the Contenders Match and secured the win, 204-195.
In the final King Match of the night, Rash put up a nearly perfect game, just missing the four pin in the 10th frame to end a run at his 31st career PBA 300 game. Rash's dominance was too much for Guerrero and he successfully defended the crown with a 289-237 win.
The PBA King of the Lanes series' Golden Strike promotion, sponsored by Go Bowling!, continued to roll on with two more Golden Strikes thrown (a strike when the head pin is gold) thrown by Rash and Guerrero. With four strikes thrown on Monday and two Tuesday, fans can get six free games of bowing at participating centers, redeemable at GoBowling.com/FreeAmerica.
Rash moves on to the final night as the King, but will face competition from the winner of the next Contenders Match between – three-time PBA Tour title winner Kris Prather and PWBA's Gazmine Mason, followed by six-time title winner Kyle Troup and 37-title winner Pete Weber.
Viewers can live stream the King of the Lanes series on the FOX Sports and FOX NOW apps or at FOXSports.com. Select highlights will be available on @FOXSports social handles across Twitter, Facebook, Instagram, and YouTube. International fans can watch live on FloBowling.com.
FS1 will telecast the final night of the series in prime time.
Wednesday, July 22 – 8-9 PM ET
Contenders Match: Kris Prather vs. Gazmine Mason
King Match 5: Winner from King 4 vs. Contenders Winner
Wednesday, July 22 – 9-10 PM ET
Contenders Match: Kyle Troup vs. Pete Weber
King Match 6: Winner from King 5 vs. Contenders Winner
Results Night 1
Contenders Match 1
Norm Duke def. Walter Ray Williams Jr., 266-211
King Match 1
Duke def. Wes Malott, 248-219. Duke is the new King.
Contenders Match 2
Anthony Simonsen def. EJ Tackett, 217-193
King Match 2
Simonsen vs. Duke, 198-185. Duke remains King.
Results Night 2
Contenders Match 3
Sean Rash def. Bill O'Neill, 256-227
King Match 3
Rash def. Norm Duke, 262-255. Rash is the new King.
Contenders Match 4
Clara Guerrero def. Jakob Butturff, 204-195
King Match 4
Rash def. Guerrero, 289-237. Rash remains King.
With health and safety top of mind, the PBA is following local and federal guidelines on COVID-19. The PBA is significantly modifying event procedures as well as taking all necessary precautions to reduce health risks for players and staff during competition. For a complete list of standards, please visit pba.com.
About the PBA
The Professional Bowlers Association (PBA) is the world's preeminent organization dedicated to the sport of bowling and its professional competition, with thousands of members and millions of fans throughout the world. The PBA plays host to bowling's biggest tournaments from the Go Bowling! PBA Tour, PBA Regional Tour, and PBA50 Tour. In 2019, the PBA was acquired by Bowlero Corporation, the world's largest owner and operator of bowling entertainment centers with more than 300 locations throughout North America. For more information, please visit PBA.com.